The Pacific Northwest's craft beer reputation has quickly become a hotbed in the country, with Portland unofficially recognized as the area's beer capitol. Meanwhile, breweries in Idaho have been growing at a steady pace with a regional reputation growing with them.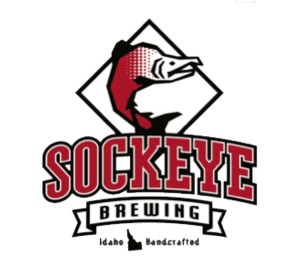 Sockeye, celebrating their 20th anniversary this year, set the pace for what would become a budding Boise's beer scene. When Mike Wood, The Growler Guys – Meridian owner, was looking to partner with a local brewery to celebrate the growler fill station's one-year anniversary, it was only natural that Sockeye was first on the list.
"They've supported us from the beginning," said Wood. "When they agreed to do a collaboration brew with our team, I was so pleased. We shared ideas about how the recipe would work over the course of a couple of weeks, and then we got down to business and brewed some beer."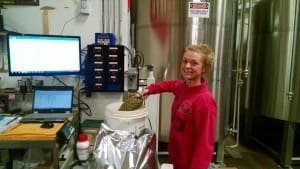 Boise has become a growing beer scene for good reason – they are centrally located around three of the country's biggest hop producing states. Those hops make the short drive to Boise, showing up with near-unparalleled freshness. Breweries like Sockeye have used those hops to create some of the state's most beloved beers.

"This area has a rapidly growing craft beer supportive scene that has been getting more attention beyond Idaho recently," said Wood. "Many would say it's the attention our makers have long deserved."
Sockeye and The Growler Guys thought it would only be right to take one of those beers, the flagship Dagger Falls IPA, and modernize it. So, the brewers tossed in pineapple puree, adding a fresh pineapple flavors that are sweet when first tasted, but blend into a woodsy and resin bitterness that is reminiscent of eating a pineapple by the plant it was picked from.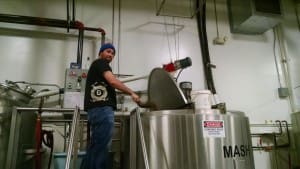 "Pineapple is easily my favorite fruit," said Wood, who attended high school in Hawaii. "Predictably, as my appreciation for IPA's grew over the last few years, my imagination kept coming back to wondering: 'what if we paired fresh, ripe, delicious pineapple with an IPA style beer?' It was a creative idea and produced tremendous results."
The Pineapple Dagger Falls IPA was distributed to all Growler Guys locations in Oregon, Washington and Idaho. If you're in Oregon, find your way to The Growler Guys – Sockeye currently does not distribute to the state, but hopes to do a full launch soon. This is a great opportunity for a sneak peak of what the brewery has to offer.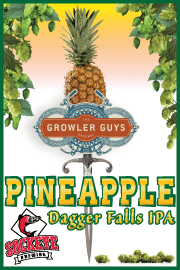 "[The Growler Guys] provide another avenue to access specialty beers that are more limited production, but that exposure boosts the recognition of our core brands," said Sockeye Marketing Director Mark Breske.
Sockeye has a couple of other beers coming out soon, including a couple more fruit beers: Mango Dagger IPA and Mango Session IPA.  They are also releasing Hopnoxious Imperial IPA, all of which will be releasing during craft beer week May 16-22.
For more information, visit thegrowlerguys.com or www.sockeyebrew.com.