We're always on the look out for some cool ways to celebrate obscure holidays AND drink beer! Many places across the country today are celebrating National Donut Day with FREE DONUTS! Believe it or not, this holiday has been celebrated since 1938 thanks to the Salvation Army. The day started as a fundraiser and a way commemorate the work of the "doughnut girls" who fed the treats to American soldiers during World War I.
In honor of this sugary day, here's four craft beer and donut pairings you'll have to try soon!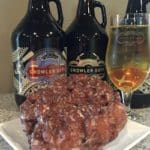 Apple Fritter
Beer: Ace Pineapple Cider
The hard apple cider is a great counterpoint to the sweet apples in the fritter, and the pineapple brings sweet-tart to the party. Crisp, fruity, rich, sweet, but not too heavy.
Raised, frosted sprinkled donut
Beer: Deschutes Brewery Pinot Suave
Fancy beer, meet fancy sprinkles! The complex, wine barrel aged flavors of this beer are screaming for a fun, whimsical and perfectly-paired match in this sweet treat.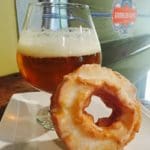 Old fashioned donut
Beer: Melvin Asterisk Imperial IPA
A hoppy IPA is a great choice to cut through the fat and richness of an old fashioned glazed donut and the tropical fruit and citrus hops from Melvin elevate the experience.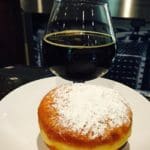 Raspberry filled bismark
Beer: Belching Beaver Peanut Butter Stout
Raspberry and stout is already a great match, and with the peanut butter flavor of this beer it's the perfect combination of peanut butter and jelly in a decadent dessert pairing!