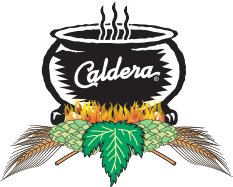 A pioneer in canning craft beer, Ashland's Caldera Brewing has been blazing the way and "Micro Canning Since 2005" making it the first craft brewery to do so on the west coast. This month, The Growler Guys in Ashland had a few questions for their lead brewer, Adam Benson about how he brews, what's coming up for Caldera Brewing and how he got his start in the craft beer world.
The Growler Guys®: How would you describe Caldera's approach to brewing?
Adam: We use malts and hops from the countries of origin, so we stay true to style. We do not cut corners. We use the best hops, malts, and we lager our beer for at least eight weeks.
The Growler Guys®: What sets Caldera apart from other craft breweries?
Adam: Our pure Ashland, Oregon water. We use 95% whole leaf hops which are harder to store and utilize but creates a beer that is internationally award winning. We have 42 of our beers on tap at our restaurant and which we occasionally release to distributors.
The Growler Guys®: Do you remember your first damn fine craft beer? / Describe your craft beer awakening
Adam: My Dad would always have Sierra Nevada Pale Ale in the fridge when I was in high school, and I would sneak one whenever I could, and I was hooked.
The Growler Guys®: Do you see any collaborations on the horizon?
Adam: We were the first to use and trademark Hop Hash. It is the left over pure resin from the pelletizing process. Sweet Water Brewing out of Atlanta bottled a Hop Hash so instead of suing them we are doing a collaboration Double Hop Hash in August. We are first going there and brewing on their system then they are coming here and brewing the same beer on ours. Should be fun!
The Growler Guys®: How do you hope to see Caldera developing? Are there any exciting changes we should prepare ourselves for?
Adam: We are opening new markets overseas and within the USA. We are currently in 17 states and nine countries. We just approved our can proofs for our New Caldera Soda Works cans and a line of seasonal cans so you will see a lot more fun Caldera Beers out there.
The Growler Guys®: What is your favorite non-Caldera craft beer?
Adam: The beer in front of me.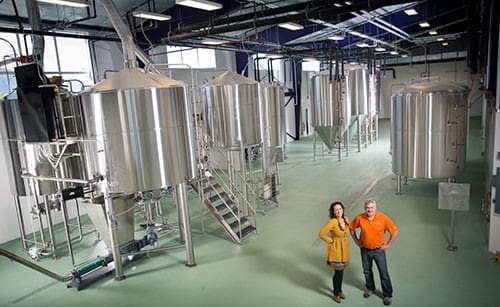 The Growler Guys®: What's your favorite Caldera beer and food pairing?
Adam: I am really into lower alcohol beers that you can drink a few and not be on the floor or too hoppy and your taste buds are ruined. We just released a Berliner Weisse that is a little sour and 4% ABV. You can add any of our bar syrups, soda or juices to match your food. I typically drink it without anything added but for brunch, it makes a perfect Beermosa with orange juice.
The Growler Guys®: How did you get your start with brewing beer?
Adam: I worked in the bar and restaurant business for years. I managed a brewpub/restaurant/nightclub in the Bay Area, and I started learning the brewing process there. My wife was originally from Ashland and was family friends with a brewpub start up so they dragged me up here kicking and screaming to work there and I can't see myself living anywhere else.
Adam Benson learned his brewing techniques on the job over the past 13 years. He was also the Assistant Brewer at Redbird Brewing and Brewer/Head Brewer Standing Stone Brewing Co. before becoming the Brewery Manager/Lead Brewer at Caldera Brewing. He doesn't consider himself a master brewer because he's always learning.