Have you ever wanted a beer for dessert?  Or perhaps you wish your beverage reminded you of your favorite childhood ice cream treat?  While it sounds like a complete diversion from the traditional bitter hoppiness featured in the most well-known beers, milkshake IPAs are quickly becoming a popular beer to fulfill a gap in beer drinkers' lives.  And they aren't just for dessert:  these beers pair well with everything from a charcuterie tray to a juicy cheeseburger.
What is a milkshake IPA?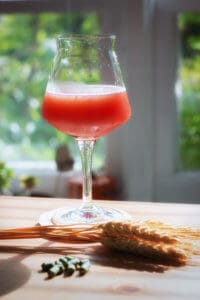 Milkshake IPAs are a type of hazy IPA brewed with lactose (milk sugar) and adjuncts such as vanilla, tropical fruits, chocolate, peanut butter, or coffee.  Common fruits include passion fruit, mango, guava, peaches, and raspberries.
Lactose does not ferment and convert into alcohol like other sugars, so it remains intact to give the beverage a sweet flavor.  Vanilla is a consistent flavor in most milkshake IPAs to enhance the taste of the fruit or other adjunct.
As with all beer, milkshake IPAs do contain hops, but they are fruit-forward instead of being bitter or hoppy in taste.  Rather than creating a balance between malts and hops, milkshake IPAs strike a balance between the sweetness of the lactose and the tartness of the fruit or adjunct.
Can lactose-intolerant people drink milkshake IPAs?
It's best for those who are lactose-intolerant to proceed with caution.  While milkshake IPAs don't have milk in them, they do contain lactose, which most people who avoid drinking milk have issues with.  Each beer will have a different amount of lactose, but it's best to assume that there will be enough to cause a lactose-intolerant person to have stomach issues, and they should take precautions as they would with other milk-based products.
Do you need to store milkshake IPAs in the refrigerator?
It's not necessary, but you should.  The lactose in the milkshake IPA doesn't spoil, but it does break down at room temperature and won't taste nearly as good after a few days.  By keeping it in the refrigerator, your beer will taste great as long as the carbonation in the growler lasts.  Canned or bottled milkshake IPAs taste best when consumed within three weeks from production but remain suitable for up to about four months.
What does a milkshake IPA taste like?
Many drinkers describe a milkshake IPA as tasting like a dessert from their childhood memories.  Many brewers use ice cream flavors or pie recipes as inspiration in creating their beers.  Milkshake IPAs are sweet and often have a foundation of vanilla to help the added fruit stand out.  There is no bitterness in these beers.