With over 3200 breweries in the United States today, the craft beer industry is continuing to grow in popularity.  If you have an entrepreneurial spirit and are excited about sharing your love of craft beer with the community, owning a Growler Guys franchise location might be a good fit for you.
What is a franchise?
A franchise combines the best of both worlds–independent business ownership with corporate oversight and leadership.  In this business arrangement, the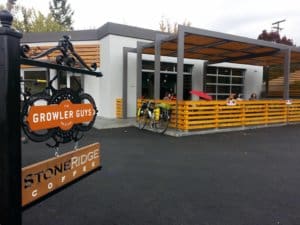 company's owner (Growler Guys) is the franchisor, and the location owner is the franchisee.
Many individuals desire to start up and run their own business, but they don't want to start from scratch.  Creating your own small business requires market research, product development, marketing, branding, etc.  With a franchise, the company has already completed all the groundwork for you.  We have an established brand with name recognition with several locations in the United States already.  
Franchisees sign a contract and pay an initial franchise fee to gain the rights to own and operate a Growler Guys location.  While you own the business, a franchisee is bound by an agreement to build the site and operate the business according to the rules, standards, and operational procedures developed by Growler Guys.  
Once the franchise agreement is signed and the fee paid, it is up to the franchisee to get the business up and running.  This often involves finding a location, paying attorney fees, negotiating lease agreements, hiring contractors and crews, purchasing furniture and equipment, hiring management (and later, employees), obtaining permits, setting up utilities, and ordering inventory and supplies.  All of these costs are the franchisee's responsibility and must be completed to the specifications of the franchise agreement.
When the location is ready to begin operations, the franchisee is responsible for operating costs from payroll to inventory and building maintenance.  Franchisees need to have sufficient working capital to maintain cash flows throughout operations.
How does a franchisee make money?
As with any business, it is up to the franchisee to make more in revenue than costs, with the difference between the two is gross profit.  In other words, franchisees have the same motivation to make money as any other type of business owner.  The difference for franchisees is that they are responsible for paying the franchisor a monthly royalty fee, calculated as a percentage of gross sales.  The royalty fee provides the franchisee with continued rights to use the company name and brand and often comes along with other benefits such as advertising or promotional videos, supplier discounts, training materials, and additional operational support.
What should you do if franchising a Growler Guys location sounds interesting?
Contact us directly for more information.  We'd be happy to fill in the blanks so you have more details about the possible costs involved in franchise ownership and a realistic estimate of your earning potential.  Owning a franchise isn't for everyone, so we want you to have complete information to make the best decision for your specific situation.  We'd love to have you filling growlers in a community near you.