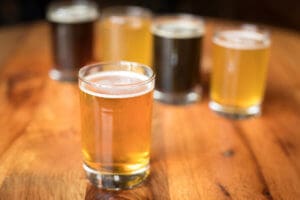 No, the answer to the question is not an IPA served "on the rocks," nor does it mean it relies on a cold brewing process.  In fact, the "cold" in cold IPA has nothing to do with the beverage's temperature; instead, it refers to the beer's crisp, clean taste.
Cold IPA's are an emerging beer style–part of the evolution of brewers to experiment with using a combination of lager and IPA ingredients and processes to create new variations that accommodate the various tastes of beer connoisseurs.
How is a cold IPA made?
While many people will come up with complicated explanations of what it is, the answer is really quite simple.  A cold IPA combines some of the best qualities of a lager and an ale to create a beer with a crisp, light body that doesn't fill you up.  There are three defining characteristics:
The beer is made with a malt that will achieve a lighter color.  Pilsner malts are often used, but sometimes a corn or rice sets the foundation.
Rather than using ale yeast, cold IPA's rely on a lager yeast.  However, unlike a lager that goes through a cold fermentation process, a cold IPA is fermented at higher temperatures.  By doing so, more hope oils are extracted, and the result is a crisper and cleaner beer than a typical ale.
Finally, cold IPA is dry-hopped like traditional IPAs, meaning the hops are added at the end of the fermentation process after the liquid has boiled and cooled down.  Dry-hopping brings more of the flavor of the hops to the beer–especially noticeable in its aroma–without increasing the beverage's bitterness.
What does a cold IPA taste like?
Every beer will have its own flavor, but usually, cold IPA's are described as clean, crisp, piney, and fruity.
The Growler Guys is your one-stop destination to try beers of every style.
Explore the growing variety of beers in one taproom, The Growler Guys.  Each of our locations carries the best local varieties, from the palest ales to the darkest stouts, along with ciders and kombucha.  Our friendly staff is happy to walk you through the characteristics of every style to help you discover your personal favorites.  Take home the beers you love best in a growler to share with family and friends.  View our online tap list to learn about the selections currently available at a location near you!