Looking to cook up some easy and fun appetizers for the Big Game?  Here are some tasty apps to cook up and pair with delicious craft beer for your Big Game Day party! Don't forget to stop by The Growler Guys to fill up on the brews to pair with these tasty party bites!
Supreme Totchos (Tater Tot Nachos)
This one is a crowd pleaser, no doubt! You can't go wrong with a mountain of tater tots, topped off with delicious nacho toppings.
A Red or Amber ale is the perfect match for these!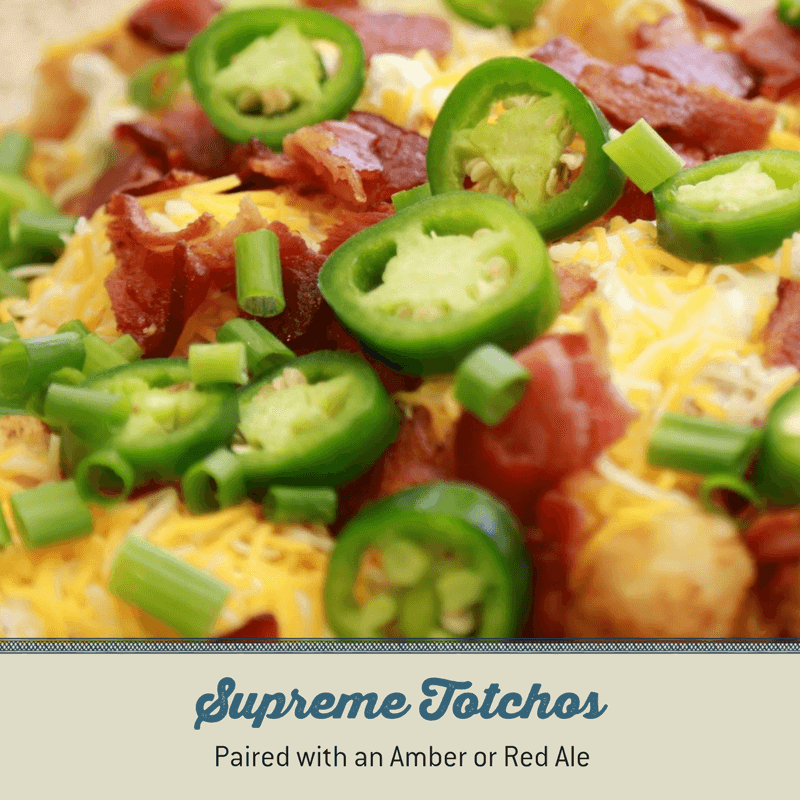 Ingredients:

Serving Size: Makes 4 as main course or 8 appetizer-sized portions
32-ounce bag frozen tater tots

3-4 slices bacon


1/4 onion, finely chopped

1 large clove garlic, minced

1/2 lb very lean ground beef

1 1/2 teaspoons chili powder

1/2 teaspoon ground cumin

1/4 teaspoon paprika

1/4 teaspoon cayenne pepper

1/8 teaspoon oregano

1/4 teaspoon salt

1/4 teaspoon black pepper

15-ounce jar salsa con queso/cheese sauce, heated in the microwave

Salsa

Guacamole

Sour cream

Several green onions, finely chopped
Directions

Prepare the tater tots using the oven method instructions on the package.

While the tater tots are baking, fry the bacon until crisp in a large frying pan. Remove and set aside to cool. In another frying pan, start cooking the beef over medium heat. Add the onion and garlic to the frying pan. Once the beef is no longer pink, add the chili powder, cumin, paprika, cayenne pepper, oregano, salt and pepper. Stir to incorporate and then cook several additional minutes until the flavors have melded and the meat is cooked through.

Once the tater tots have finished baking, use tongs or a spoon to transfer to a large platter or individual plates. Top with the seasoned beef, salsa con queso, salsa, guacamole, sour cream and green onions. Crumble the bacon over the top and serve immediately.
Bacon & Jalapeno Bites
We found this recipe to be super simple, easy on the wallet and absolutely delicious! When you bite into these poppers, the cream cheese just melts in your mouth as the flavors of bacon and jalapeno sends you on a flavor blast!
This appetizer is best enjoyed with a Pilsner.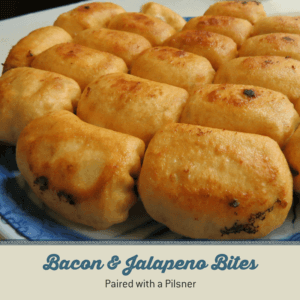 Ingredients
1 can (8 oz) Pillsbury™ Refrigerated Crescent Dinner Rolls

8 oz cream cheese, softened

4 jalapeños, seeded and diced finely

8 pieces of bacon, cooked and crumbled

Butter, melted
Directions
Preheat oven to 350°F. Line a baking sheet with parchment paper or spray it with cooking spray.

Open can of crescent rolls and separate each roll along the perforation. Cut each triangle in half.

In a medium bowl, combine cream cheese, jalapeños and bacon. Place 1 tablespoon of the cream cheese mixture on each piece of dough.

Gather the edges of the dough up and pinch them together making sure all the filling is sealed inside. Place the ball of dough seam side down, spread the melted butter on top of the dough and bake for 11-14 minutes or until golden brown.
Bite Size Bloomin Onions
These apps take a bit of time to make, but the turnout is very rewarding! The onion blossom sauce gives the bloomin onions a nice zing to them! Don't care for spice? Mix some ketchup and some mayonnaise together and wah-lah! You have an perfect fry sauce to use as a dip.
Pair these tasty bites with a Belgian-style ale.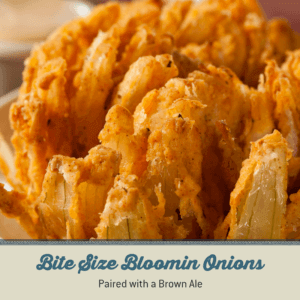 Ingredients
12 large pearl onions

Canola oil, for frying

3/4 cup all-purpose flour

1/4 cup cornmeal

2 teaspoons paprika

1 teaspoon onion powder

1 teaspoon garlic powder

Kosher salt and freshly ground black pepper

1/3 cup milk or buttermilk

2 large eggs
Onion Blossom Sauce, recipe follows, for serving
1/2 cup mayonnaise

1/4 cup sour cream

1 tablespoon hot sauce

1 tablespoon prepared horseradish

1 teaspoon paprika

1/2 teaspoon garlic powder

1/2 teaspoon onion powder
Directions
Slice about 1/4 inch off the top of each onion and slice off just a little bit of the root end, making sure the root is still intact. Peel each onion. Using a paring knife, make a slice from the top of each onion into the center and down to about 1/4 inch above the root. Repeat the cuts going around the onion, spacing them out by 1/3 inch to form the "petals" of the blossom. Once all the cuts have been made, press down on the top of the onion with the palm of your hand to help separate the petals. Repeat with the remaining onions.

Fill a medium heavy-bottomed pot with enough canola oil so it comes up the sides about 3 inches. Heat over medium-high heat to 350 degrees F.

In a pie dish, whisk together the flour, cornmeal, paprika, onion powder, garlic powder and a generous pinch of salt and pepper. In a second pie dish, whisk together the milk and eggs. Working in batches, coat the onions in the egg wash, then dredge in the flour mixture, making sure the onions are coated and the flour mixture gets into all the crevasses of the onion "petals." Place on a plate.

Fry the onions in batches until golden brown, 3 to 4 minutes. Drain on a paper towel-lined plate. Season with a bit more salt. Serve with Onion Blossom Sauce.
Onion Blossom Sauce
Combine the mayonnaise, sour cream, hot sauce, horseradish, paprika, garlic powder and onion powder in a bowl and mix until blended.
Bacon Cheddar Stuffed Sliders
Bacon, beef and cheese, what else is there to say? The Bacon Cheddar Stuffed Sliders would be a great excuse to pull out the barbi. Once you bite into these apps, the oozy cheese and bacon leaving your tastebuds begging for more!
Wash these scrumptious delectables down with an IPA!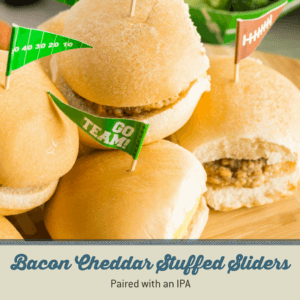 Ingredients
8 oz Cheddar Cheese or any desired cheese (crumbled or cut into small cubes)

5 pieces of cooked Bacon

1 lb (80/20) Ground Beef

2-4 Tablespoons Worcestershire Sauce

5 Slider Rolls
Instructions
Take about 3 oz of ground beef and flatten it in your hand.

Take a good bit of cheese and put it on top of the beef.

Add 1 slice of crumbled bacon on top of the cheese.

Using your fingers bring the edges of the beef patty up around the cheese and bacon stuffing. Make sure the cheese and bacon are overloaded inside each patty!

Seal the top and form it into a neat slider patty. Be sure it is sealed well.

Repeat 4 more times.

Pour Worcestershire sauce over the uncooked slider patties.

Grill sliders over medium or medium high heat.

Place on slider rolls and serve.
Mac & Cheese Bites
Want a homey, comfort food condensed down into a bite size? These homemade mac and cheese bites are the perfect app to serve at your Big Game Party! You can certainly cut down on the ingredients and use a box of macaroni for this recipe if you wanted.
These cheesy mouthfuls go perfectly with a Brown ale.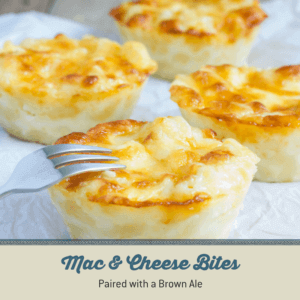 Ingredients
½ pound elbow macaroni

2 tablespoons butter

4 tablespoons flour

1½ cups milk

2 cups shredded sharp cheddar cheese

2 ounces cream cheese

½ teaspoon salt

¼ teaspoon pepper

1 egg beaten
Directions
Preheat oven to 400 degrees F.

Spray mini muffin tins with cooking spray.

Cook pasta according to package directions and set aside.

In a medium size pan combine butter and flour over medium heat. Whisk until butter is melted and mixture is smooth. Slowly add milk and bring to a simmer. Add 1½ cups of the cheese, cream cheese, salt and pepper. Stir until smooth and creamy. Remove from heat.

In a large mixing bowl, carefully stir pasta, cheese sauce, and egg until evenly mixed and pasta is evenly coated.

Spoon mac and cheese into mini muffin tins and top each with a small pinch of remaining cheese. Bake at 400 degrees F for 15 minutes or until golden brown.

Allow to cool 5 minutes before gently removing the bites.