Homemade Brownies paired with a Fruit Beer
These homemade brownies are absolutely delicious! We found this recipe easy to make and didn't require a lot of ingredients you wouldn't normally find hanging around the house. When you pair these sweets with a fruit beer, the fruitiness helps cut down the chocolate overhaul from the brownies.
1 cup sugar

⅓ cup unsweetened cocoa powder

½ cup all-purpose flour

¼ teaspoon salt

¼ teaspoon baking powder

½ cup butter, melted and then cooled

2 eggs

1 teaspoon vanilla
Step 1: Sift together all of the dry ingredients in a bowl
Step 2: Melt butter and set aside to cool slightly
Step 3: In a medium bowl, beat two eggs with the vanilla. Add in the dry ingredients and gently stir. Pour the melted butter into the brownie mixture and mix until just incorporated. Spread batter in a prepared 8-inch square pan and bake for 20-22 minutes at 350 degrees.
*Note: You may have to bake the brownies for longer, depending on your altitude
You can add chocolate chips into the batter for extra chocolatey deliciousness! Top these off with some fresh raspberries, chocolate syrup and a dab of whipped cream!
Red Velvet Cupcakes paired with a Porter
Red Velvet cupcakes are a dreamy, creamy dessert that is sure to delight! Each velvety bite goes best with a porter!
2 ½ cups all-purpose flour


½ cup unsweetened cocoa powder

1 teaspoon baking powder

½ teaspoon salt

1 cup butter, softened

2 cups sugar

4 eggs

1 cup sour cream

½ cup milk

1 (1 oz.) red food coloring

2 teaspoons vanilla extract
Buttercream Frosting
4 cups powdered sugar

1 cup butter, softened

2-3 teaspoons vanilla extract

1-2 tablespoons of milk
Tip: If the frosting is too thick, add more milk. If it's too thin, add more powdered sugar.
Step 1: Preheat the oven to 350 degrees. Mix flour, cocoa powder, baking soda and salt in a medium bowl. Set aside.
Step 2: Beat butter and sugar in large bowl with electric mixer on medium speed for 5 minutes or until light and fluffy. Beat in eggs, one at a time. Mix in sour cream, milk, food color and vanilla. Gradually beat in flour mixture on low speed until just blended. Do not over beat. Spoon batter into 30 paper-lined muffin cups, filling each cup a little over ½ full.
Step 3: Bake for 20 minutes or until a toothpick is inserted into a cupcake comes out clean. Cool in pans  on wire rack for 5 minutes. Remove from pans; cool completely.
Step 4: Make the buttercream frosting by adding 2 cups of powdered sugar into a mixer or mixing bowl.
Step 5: Add 1 cup of butter, vanilla and milk start mixing on low. Move the mixer speed to medium-high until the frosting reaches proper consistency.
Step 6: Top the red velvet cupcakes with the buttercream frosting.
Step 7: Enjoy!
Linzer Cookies paired with a Brown Ale
If you or your special someone go nutty for nut-like desserts, the Linzer cookie is the perfect treat for you! These cookies do take some time to make but the results make it all worth while. This Austrian cookie is best enjoyed with a brown ale.
Makes about 2 dozen cookies
2 ¼ cups all-purpose flour


½ teaspoon ground cinnamon

½ teaspoon salt

½ teaspoon baking powder

¾ cups almonds

¼ cup packed light-brown sugar

1 cup unsalted butter, softened

½ cup powdered sugar, plus more for dusting

1 large egg

1 teaspoon vanilla extract

¼ teaspoon almond extract

8 ounces strawberry or raspberry jam, seedless if preferred

Step 1: In a mixing bowl, whisk together flour, cinnamon, salt and baking powder, set aside.
Step 2: In a food processor, pulse almonds with brown sugar until finely ground, set aside.
Step 3: In the bowl of an electric stand mixer fitted with the paddle attachment, whip together butter and powdered sugar on low speed until combined, then increase to medium-high and whip until creamy, about 1 minute.
Step 4: Mix in egg, then blend in vanilla and almond extract.
Step 5: Mix in the almond mixture, then with the mixer set on low speed, slowly add in the flour mixture and mix until combined.
Step 6: Form mixture into a ball and drop onto a sheet of plastic wrap, then flatten into a 6-inch round disk, cover with plastic wrap and chill in the refrigerator for 2 hours.
Step 7: Preheat the oven to 350 degrees. Dust work surface with flour, cut dish in half and then evenly roll out each portion into ⅛ to  ⅙ inch thickness.
Step 8: Cut into heart shapes using a cookie cutter, then using a smaller heart shape cookie cutter, cut smaller hearts into the centers of half of the hearts.
Step 9: Carefully transfer to a lightly oil-sprayed baking sheet (you can use a sharp knife or a pastry scraper under cookies to help lift them if needed), spacing cookies 1-inch apart.
Step 10: Bake in preheated oven 10-12 minutes until edges are lightly golden.
Step 11: Cool on baking sheet for several minutes then transfer to a wire rack to cool completely.
Step 12: Spread jam over whole hearts, dust cookies with heart cut centers with powdered sugar then place those cookies over the tops.
White Chocolate Bites paired with a Barrel-Aged Beer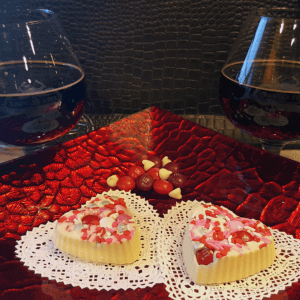 No need to buy a box of white chocolates when you can make your own! Your sweetheart will certainly appreciate the creativity and personal touch on these delights! These handmade chocolates pair well with a barrel-aged beer.
Ingredients:
12 ounce package of white chocolate

Valentine M&M's

Sprinkles, or choice of toppings
Step 1: Make sure silicone molds are clean and dry
Step 2: Place mold on baking sheet or other flat surface
Step 3: Add a few M&M's and a dash of sprinkles into each mold
Step 4: Melt the white chocolate chips in the microwave in 30-second increments until melted
Step 5: Pour melted white chocolate into each cavity
Step 6: Tap baking sheet firmly on the counter to level out the melted chocolate
Step 7: Let cool, until hardened
Beeramisu paired with a Stout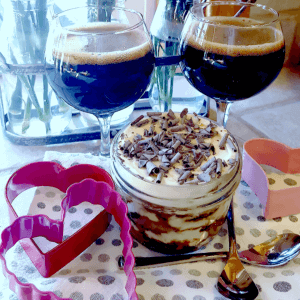 This recipe turned out to be surprisingly easy to make. Just remember you will want to make them a day ahead so they are chilled enough. Enjoy these sublime treats with a stout.
Ingredients:
¼ cup mascarpone, softened

3 tablespoons sugar

3 tablespoons heavy whipping cream

½ cup stout

9 ladyfingers

Cocoa, to garnish
Step 1: Combine the mascarpone and sugar in a bowl and stir to dissolve. In a stand mixer, whip the whipping cream until stiff peaks form, 2-3 minutes. Fold the whipped cream into the mascarpone.
Step 2: Pour the beer into a shallow bowl. Dip the ladyfingers into the beer, flipping once. Don't soak them too long or they'll fall apart.
Step 3: Place the ladyfingers in a tight single layer on the bottom of your cup, breaking into pieces of necessary. Spoon on a bit of the mascarpone and smooth out. Dust with dark cocoa powder. Repeat until you reach the top of your cup. Finish with a dusting of cocoa. Wrap up and refrigerate for at least 12 hours before serving.