You may see this type of beer promoted as a Belgian white beer, bière Blanche, or witbier, all of which is a light, refreshing beer originating in the middle ages.  Most white beers have been produced in the Flemish areas of Belgium because brewers could obtain the cereal grains and spices for the beverage from farmers in the Netherlands.  In fact, during the 14th century, witbier was the primary beer style produced in Belgium, and the spice they used to add flavor was called "gruut."  They did not use any hops in their recipe.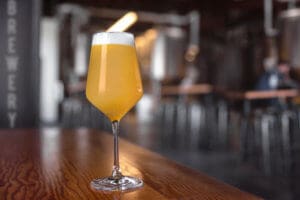 Today, most white beers are produced from unmalted wheat.  In some cases, brewers may use unmalted oats or barley.  Few hops are added to the mix, so the bitterness is very low.  Instead, brewers use spices to create flavors, like coriander and orange peel.  
This style is a top-fermented, unfiltered beer.  You'll see they have a light haze in their appearance.  The haze comes from proteins and yeast that remain in the liquid after fermentation.  Beer drinkers experience a creamy and smooth mouthfeel from the unmalted grains used in their production.  
White beers are refreshing on warm summer days.  Because of the low hop content, the average IBU is between 10 to 17.  Most have an ABV between 4.8 to 5.6%.  
What does a white beer pair well with?
White beers pair well with lighter meals, such as salads, smoked salmon, fish, sushi, and lobster.  It's an excellent beverage for lunch, and many people enjoy them with eggs, bacon, cheese, and ham.  
How is a Belgian White Beer different from a hefeweizen?
These two beverages are often confused because of their light appearance.  While many beer drinkers enjoy both, there are some differences between the two.  For example, while the yeast is the ingredient that creates the fruity taste in both, a hefeweizen typically has a banana and cloves taste, while a Belgian white beer features notes of spice and citrus.  Also, hefeweizens are usually produced from malted wheat, barley, and hops, while white beers are made with unmalted wheats, oats, or barley and few hops.
Visit The Growler Guys to experience new styles of beer.
Explore the growing variety of beers in one taproom, The Growler Guys.  Each location carries the best local varieties, from the palest ales to the darkest stouts, along with ciders and kombucha.  Our friendly staff is happy to walk you through the characteristics of every style to help you discover your personal favorites.  Take home the beers you love best in a growler to share with family and friends.  View our online tap list to learn about the available selections at a location near you.