Hard cider is a fermented beverage made with a base of crushed fruit, usually apples or pears.  During the fermenting process, the yeast converts sugars to become alcohol.  Most hard ciders have an ABV between 4.5% and 7%, but some range as high as 12%.  Usually, drier ciders will have a higher ABV because more of the sugar has converted to alcohol.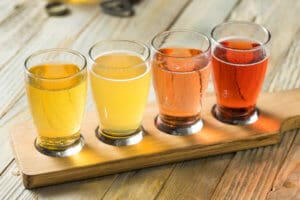 Because the basis of hard cider is fruit, brewers have a great deal of flexibility to create a wide variety of flavors.  In general, hard cider can be still or carbonated and will fall into one of three categories:
Dry cider: 

These ciders have less than .5% residual sugar.  Because most of the sugar has converted to alcohol, the ABV content will be higher.  Of course, the beverage will be less-sweet, too.  Many dry ciders are aged in oak barrels.

Off-Dry Cider: 

This is an excellent middle-of-the-road formula with 1-2% residual sugar.  People find these smoother and have a richer flavor than a pure dry cider.

Semi-Dry and Semi-Sweet Cider: 

These ciders are much sweeter with 2% to 4% residual sugars.  They usually have a lower ABV and come with a heartier, fruitier flavor.
How to Taste Hard Ciders
When you're exploring different beverages, there are some practical tips for how to taste hard ciders to best note and differentiate the flavors.  
Don't drink it ice cold.

 When a beverage is too cold, the temperature masks the flavors and aromatics.  The cider should be allowed to sit at room temperature for about five minutes before consumption.  The best temperature to enjoy a hard cider is 50 to 55 degrees fahrenheit.  If it's extremely dry, then room temperature is even better.

Use a glass.

 If you purchase a hard cider from a store, resist the temptation to drink it from the bottle or can.  Pour your beverage into a glass instead.  The best glasses for tasting hard ciders include pilsner, fluted Champagne, tulip, and cider glasses.

Taste ciders in a specific order.

 When you're tasting a series of ciders, the tastes will build on each other.  Because of that, there is a recommended order of tasting, so you enjoy each one to its fullest:
Ciders fermented only from apples.

Ciders with spices or botanical flavors.

Barrel-aged ciders.

Fruit ciders (e.g., pears, cherry, etc.), cysers (e.g., fermented with honey), and hybrids (e.g., ginger).

Ice ciders and pommeau.  
Consider all the qualities.

 As you're tasting hard ciders, consider all the elements that go into a delicious beverage:  appearance, aromas, flavors, body, and finish.  

Try pairing them with foods.

 Many ciders are delicious alone, but they also pair well with food.  Your server should be able to make recommendations to help you best appreciate the flavors of the beverage.  Cheeses, oysters, pork, charcuterie plates, fish, burgers, pizza, and even squash are often paired with hard ciders.  
Want to taste hard ciders from a variety of cider breweries?
You can try a broad spectrum of ciders at the Growler Guys.  Our friendly staff is happy to answer all your questions, so you understand why you prefer the kinds of beverages that you do.  Stop by, relax, and enjoy exploring the best ciders, beers, and kombuchas from regional breweries.