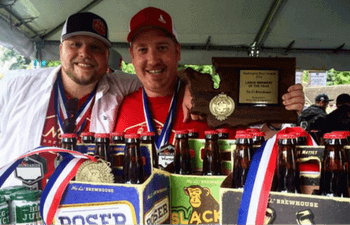 Nestled on the waterfront of the Spokane River sits an award-winning brewery known as No-Li Brewhouse. No-Li Brewhouse has been in the craft beer industry for four years and in that short amount of time, they have been making an impact in the Northwest with delicious craft beers like Born & Raised IPA, Wrecking Ball Imperial Stout, and Spin Cycle Red. Along with producing great Spokane craft beer they are also influencing the Spokane community by volunteering and giving back locally. We chatted with owner John Bryant and head brewer Ryan Brookhart about their craft beer, giving back and what the future holds for No-Li Brewhouse.
How did No-Li Brewery come to life?
John Bryant: No-Li Brewhouse was created and brought to life in May 2012 in the pursuit of building and strengthening a craft beer epicenter in Spokane that serves Spokane and the Pacific Northwest. We are passionate about craft beer and the customer experience! We've won the National Beer & Wine Wholesalers Association Brewery of the year in 2015 and Washington Large Brewery of the Year in 2016. We employ 25 full-time and 30 part-time associates with distribution in Washington, Idaho, Oregon, Montana, Alaska, Hawaii and Texas and have international distribution in Canada and Japan.
How did you get into brewing craft beer?
Ryan Brookhart: My love of craft beer started in 2007. I had been drinking my fair share of mass-produced lagers and began to grow tired of the true lack of selection, so craft beers started to gain my attention. I was buying random beers off of the shelf trying exotic "new" styles like IPA's, Stouts and Reds. It didn't take long before I was completely hooked. After buying and drinking craft beer for some time, I looked into whether or not it was possible to make beer at home. Much to my delight, it was. I scoured the internets looking for information and supplies.  After I had a basic homebrew setup, I fell even deeper in love with craft beer. Several years passed and I wanted to take my [craft beer] hobby and turn it into a career. A quick Google search revealed that Central Washington University offered a Craft Beer Certification program. When I graduated from the program, I came back to my hometown of Spokane, blanketed the area with resumes and in a short time got hired at No-Li.
What is the driving source of inspiration behind No-Li Brewery, and the craft beers created?
John: Inspiration comes from within each person at No-Li to imagine, create, stretch and bring to life a [craft] beer culture. As a chef in a kitchen, we take all of the fresh and bountiful Pacific NW ingredients in water, hops and barley malt and brainstorm new recipes. No-Li Small Batch Festivals showcase 12 "one-off" [craft] beer recipes every quarter. We love experimenting with beer ingredients, recipes and beer formulations in Stouts, IPA's, Pale, Golden Ales and more!
Besides using local ingredients, how does No-Li Brewery embody the Pacific Northwest?
John: No-Li uses 100% Pacific Northwest ingredients to create beer! We express the vibe of No-Li through local, fresh and indigenous grown and sourced water, hops, and barley malt.
How does No-Li Brewery give back to the community of Spokane?
John: No-Li is an integral part of the communities it serves. No-Li Brewhouse is based upon a "giving more than we take" philosophy with a servant leadership approach in organizational (people) development and a business mentality that prioritizes its contribution in time, energy and financial resources to strengthen the footprint in which it operates. No-Li is an extension of its people, neighborhoods, and the larger Spokane area.
We are blessed to be able to do business that complements and supports the future of Spokane; creating a new economic and cultural base that provides new living wage jobs, increased tourism into our community (filling hotels & restaurants), increasing support for the local arts, music, and food communities, while increasing tax revenues to support financial funding of local city programs.
No-Li established a Community Development Program that featured special taster trays at the No-Li Pub with $2 from each tray donated to a local monthly Spokane non-profit charitable program. We built the program to approximately $1,100 to $1,200 donation per month. A few of the recipients were CASA (Court Appointed Special Advocate for Children), Catholic Charities, Humane Society and Spokane River Clean-Up.
This monthly program taught our culture that sharing the goodness with our customers and into our community not only felt good but taught us that giving is a privilege. We also learned that time spent with non-profit organizations helps us all learn more about others that are in greater need than ourselves. This is where we learned more about the United Way and the Mayor's Office community programs.
The monthly No-Li Community Charitable Program began to be emulated by other craft brewers seeing how this positive "give" makes a difference.
We learned that non-profits are doing great work in our communities. As we began to donate time, in addition to financial giving, we knew that we needed to personally get involved. The monthly "No-Li Giving From The Source" program was born out of a desire to recognize a specific Spokane Neighborhood monthly at No-Li Brewhouse with a custom Spokane Neighborhood LocALE feature; inclusive of a month long marketing promotion of the neighborhood that reached over 35,000 people and a custom pint glass with a recognized symbol of the neighborhood on the glass.
The "No-Li Giving From The Source" program grew out of the No-Li Community Development Program and No-Li LocALE program over the past few years. It has been a gradual and consistent growing of learning, sharing, serving and No-Li staff embracing the "giving more than we take" cultural DNA of the company.
Today, No-Li works in tandem with The United Way and City of Spokane Mayor's Office to monthly recognize and engage a different Spokane neighborhood. The monthly program includes a non-profit program in specific neighborhoods that No-Li staff donates time and giving to.
The positive emotional impact on the people of No-Li has created a movement. No-Li is pledging a $20,000 donation into the "Giving From The Source" monthly non-profit program that The United Way will help to manage and coordinate with No-Li.
The staff at No-Li hopes that an initial financial pledge will gather more awareness and support from other community businesses and craft brewers to jump onboard and create micro-grants for neighborhood-based projects.
Are you going to be releasing more barrel-aged beers in the near future?
John: We have 75 wood barrels aging No-Li beers for upcoming barrel releases.
Where do you see No-Li going in the next few years? Do you intend to expand your distribution footprint?
John: We are not planning expansion markets. We are working to better serve our Pacific Northwest customers and remain independent. No-Li is a relatively small and independently owned craft brewery. New Belgium, Sierra Nevada, Sam Adams, Deschutes and other craft breweries create up to and over 1 million barrels per year. No-Li is only about 10,000 barrels per year.