Need a new chicken recipe but don't want to grill and dry out a chicken breast? No problem, head to the store and pick up chicken thighs and a growler of a tasty saison, and you'll be set!
Why chicken thighs? For starters, chicken thighs have a little more fat that gives it more flavor, and since it has a little more fat than a chicken breast, it won't dry out as fast on the grill. Chicken thighs are also budget friendly on your wallet too!
We're pairing this recipe with a saison due to Epicurious's recommendation that "the subtle citrus notes, fiery heat, and aromatic spices play nicely with the saison's peppery notes and lemony accents." The lemon juice and red pepper flakes from the marinade of the recipe really balance together when paired with a Farm Out Saison from Worthy Brewing.
Some great Saison suggestions to pick up, include Colette Saison by Great Divide, Hipster Sunburn Saison by Laurelwood, and Cherry City Saison by Santiam. OR ask any of the stewards at your local Growler Guys location what saisons are on tap!
So let's start cooking!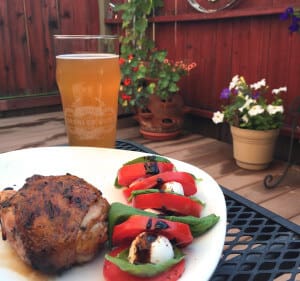 Maple Spicy Mustard Chicken
Ingredients
1/2 cup of any Whole Grain Mustard
1/2 cup of Pure Maple Syrup
Juice of 1/2 a Lemon (or 1/8 cup of lemon juice)
1 Garlic Clove, smashed and minced
1/2 teaspoon Paprika
1/2 teaspoon Kosher Salt
1/2 teaspoon Red Pepper Flakes
4 Chicken Thighs (with skin)

Method
Whisk all ingredients in a small bowl.
Reserve 4 tablespoons of sauce and then pour the rest over the chicken, toss in a plastic zipper bag and let it sit for about 30-45 minutes at room temperature or overnight in the refrigerator.
Preheat the grill on medium- medium high heat and grill chicken for 10-14 minutes per side while basting the reserved sauce. Check for doneness by cutting the thicker part of the chicken. If juices run clear then its done!
Yumm!