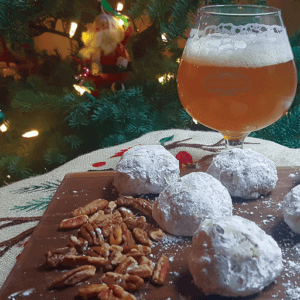 Pretend it's a White Christmas and leave Santa a tray of traditional Snowballs and a bold Imperial IPA for him to wash down after he drops off the gifts.
Adapted from Land O Lakes 
Prep Time: 45 minutes | Cook Time: 25 minutes | Total Time: 85 minutes (Makes 3 Dozen)
Ingredients
2 cups all-purpose flour
2 cups finely chopped pecans
1/4 cup sugar
1 cup Land O Lakes® Butter, softened
1 teaspoon vanilla
Powdered sugar
Instructions
– Pre-heat oven to 325°F.
– Combine all ingredients except powdered sugar in bowl. Beat at low speed, scraping bowl occasionally, until well mixed.
– Shape dough into 1-inch balls. Place 1 inch apart onto ungreased cookie sheets.
– Bake 18-25 minutes or until very lightly browned.
– Cool 5 minutes; roll in powdered sugar while still warm and again when cool.