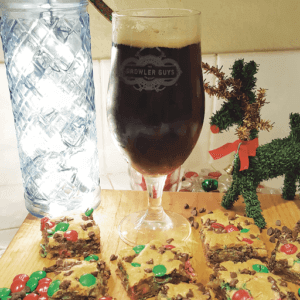 Satisfy Santa's sweet tooth with these super easy to make bar cookies and a Belgian Dark Strong.
Adapted from Number 2 Pencil
Prep Time: 15 minutes | Cook Time: 35 minutes | Total Time: 50 minutes (Makes 2 – 3 Dozen)
Ingredients
2 sticks of butter, at room temperature
1 cup of granulated sugar
1 cup of firmly packed golden brown sugar
3 large eggs
1 1/2 teaspoons of pure vanilla extract
3 cups of all-purpose flour
3/4 teaspoon of baking soda
3/4 teaspoon of salt
1 1/2 cups of Christmas M&M's , plus more for topping
1 cup of mini chocolate chips, plus more for topping
1/2 cup of white chocolate chips
Instructions
– Preheat oven to 350 degrees.
– Line a 9×13 baking dish with foil, leave some overhang to make removal easier.
– Spray foil generously with nonstick cooking spray.
– In the bowl of a stand mixer, beat butter, granulated sugar, and brown sugar together until fluffy.
– Add in eggs and vanilla extract and continue to beat.
– Lower speed of mixer and add flour, baking soda and salt and mix until combined.
– Add M&M's and mini chocolate chips and give a final stir, reserving some M&M's, mini chocolate chips and white chocolate chips for topping cookie bars.
– Transfer cookie dough to prepared baking dish.
– Press additional M&M'S, mini chocolate chips and white chocolate chips on top of cookie dough.
– Bake 35 to 40 minutes on oven rack in lower third of oven to prevent over browning.
– Let cool completely and cut.