Breast Cancer Awarness Month
As we head into October we start thinking about the leaves changing color, the sun setting earlier, the days getting colder- and breasts. That's right; October is breast cancer awareness month. The Growler Guys is teaming up with Breast Friends and Schilling Cider this month to support women who are battling breast cancer.

Did You Know…
1 out of 8 women living in the United States will develop breast cancer in her lifetime? And men aren't immune to it either- although women are at a much higher risk for it, men in the United States have a 1 in 1,000 chance of getting it.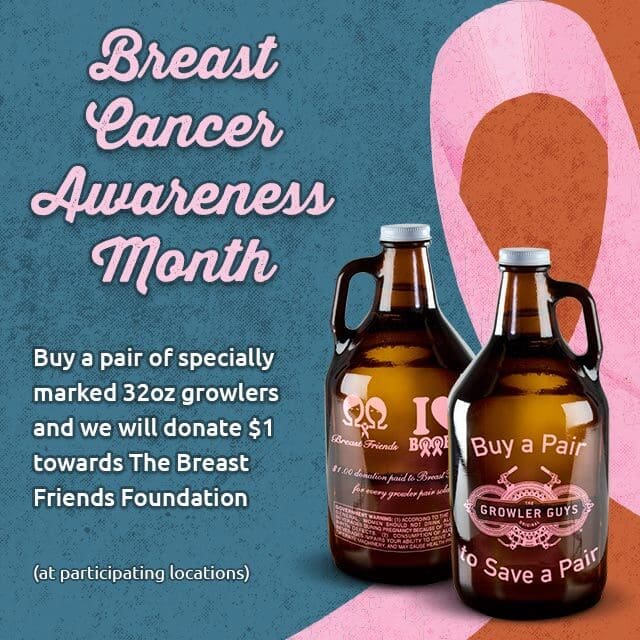 Almost everyone has been affected by breast cancer in one way or another; whether you yourself have it, are a survivor of it, or struggled alongside of a friend or family member who went through it.

In 2015 alone, over 40,000 women are expected to die of breast cancer. That's 40,000 too many, and that's why The Growler Guys is helping to take action against breast cancer.
Breast Friends
Breast Friends is an organization that supports women and their families who have been affected by breast cancer. They are a resource by way of helping breast cancer victims find financial support and medical care. They also provide emotional support for breast cancer victims by hosting activities, rallying community support groups and by providing an ear to listen and a shoulder to cry on.
Here in the Northwest, we have our own chapter of Breast Friends located in Tigard, Oregon. Breast Friends was founded in Oregon in 2000 and this location remains their national headquarters.
You Can Help!
In all of our Growler Guys locations, we'll be supporting Breast Friends by initiating our 'Buy a Pair, Save a pair' promotion. Anytime you come into The Growler Guys and buy 2 of our special breast cancer awareness growlettes (32 oz), we'll donate $1 to Breast Friends.
Head's up for our next newsletter. We'll be talking about the collaborative cider in support of breast cancer awareness month between The Growler Guys and Schilling Cider. The cider is aptly named 'Pinkalicious'. 
Come into The Growler Guys this October to support all of the women in your life who have been affected by breast cancer. Buy a pair of growlettes and fill them up with The Fruit Method- it's even pink!
When you buy a pair at The Growler Guys, you help save a pair.