Forget tulips and cherry blossoms – this year, April showers are yielding something much more delicious! Many bars and breweries across the Northwest are celebrating the arrival of May with "April Showers bring May Sours" beer events to celebrate the wonder that is sour ale.
If you've never tasted a sour ale, you're in for a surprise – and maybe even a bit of a shock. Sometimes described as acidic or tart, these beers boast a distinctive, intensely-sour taste that often puts them firmly into "love it or hate it" territory. There are 11 different varieties of sour ale from which you can choose, including wild beer, several types of Lambic ales, a range of Gose beers, and the popular Belgian-Style Flanders.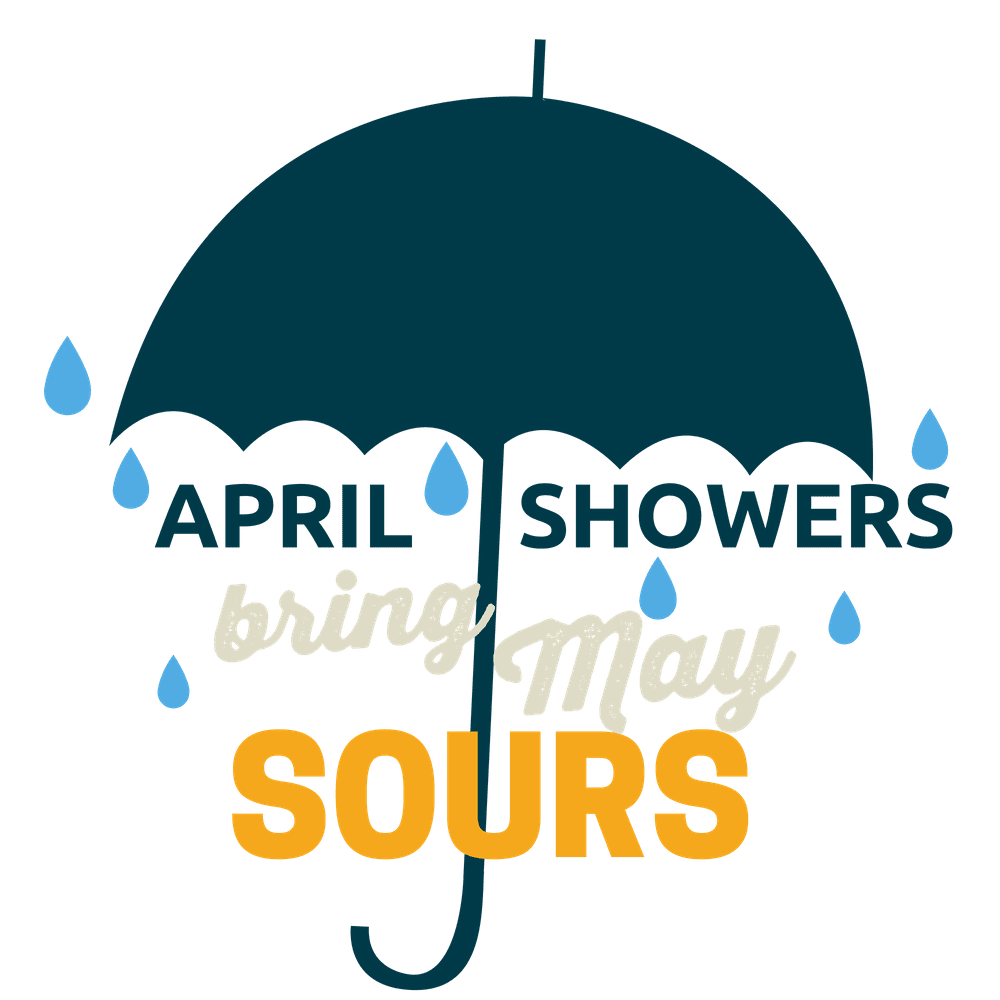 According to the BJCP beer style guidelines, "European Sour Ales" (as they're officially known) are defined as the traditional sour beer styles of Europe that are commonly made with some kind of a wheat component. These beers are low in bitterness – and instead, the signature sour flavor takes the place of the hoppiness found in other beers to provide balance. To make them more palatable, sour beers may be sweetened by the brewery or by the drinker at the time the beer is poured. They're also available in a wide range of flavors and may even have fruit added, as with Belgian Style Fruit Lambics.
Sour beers have been around for centuries – although originally, that sour taste wasn't exactly intentional. Brewers in Belgium used the age-old lambic technique for creating beer, which involves putting wort, which is the liquid that comes out of the grain-mashing process, into a vat and leaving it to attract the yeast and bacteria that ferment it to create beer. Because refrigeration didn't exist and hygiene standards were much looser at the time, the concoction was left open, and it attracted lactic bacteria like Lactobacillus and Pediococcus. Those natural bacteria are what created the sour taste. At the time, the beer was considered to be "off," although many undiscerning beer lovers continued to drink it.
Today, the sour flavor in Lambics and other wild beers is no accident – and in fact, many craft beer makers work with scientists to produce and refine the types of yeast and bacteria that are used in sour beers in order to yield just the right taste. There are even nicknames for the Brettanomyces yeasts and Lactobacillus bacteria, which brewers lovingly refer to as "Bretts" and "Lactos," that create the lactic acid that provides that tongue-shocking taste in most sour beer.
Perfecting sour beers is clearly paying off. Time Magazine reports that sales of sour beer have spiked over the last several years, with the Brewers Association finding that 245,000 cases of sour beer were sold in the US in 2016, compared to 45,000 in 2015. Sales were expected to rise another 9% in 2017 – and sour beers continue to sell well at grocery stores, bars, and growler fill stations across the country.
While more and more beer makers are trying their hands at crafting sour ales, there are several breweries that were pioneers of the pucker. Some of the best known breweries to create sour ales include:
Located in Fort Collins, Colorado, New Belgium introduced La Folie to the world back in 1997 and has been delighting beer drinkers with flavorful, sharp, and innovative Flemish sour ales ever since.
Indiana's Upland Brewing Company prides itself on experimentation and started barrel-aging sour beers in 2006. They now offer nine varieties, including the well-loved Sour Reserve.
One of the driving forces behind the Northwest-style sour beer movement, Cascade Brewing Barrel House in Portland, Oregon, serves up barrel-aged fruit lambics that feature everything from apricots and peaches to blackberries and blueberries.
Dexter, Michigan's Jolly Pumpkin Artisinal Ales has been creating complex sour ales from simple ingredients since 2004. Known for using open fermentation techniques, the brewery's funky ales include the sourest of sours – the La Roja.
Famous for its "Funkatorium," the East Coast's first sour and funky beer dedicated taproom, Wicked Weed Brewing in Asheville, North Carolina, crafts dozens of sour ales – including what they call "Black Sour" and "Smoked Sour" beers.
If your interest has been piqued – or puckered – by the thought of taste-testing a sour ale, watch for "April Showers bring May Sours" beer events across the Pacific Northwest starting May 1st, 2018. Of course, you can also head to your neighborhood Growler Guys location to sample the rotating selection of sour ales on tap. Below, you'll find the 11 varieties categorized by The Growler Guys as "Sour Ales", along with some of our favorite examples. Stop by and see what's available, and experience the powerful punch of sour ales for yourself!
Sour Ale
Belgian-Style Lambic
Wild Beer
American-Style Sour Ale
Leipzig-Style Gose
Gose
Contemporary Gose
Berliner-Style Weisse
Belgian-Style Gueuze Lambic
Belgian-Style Fruit Lambic
Belgian-Style Flanders Oud Bruin Or Oud Red Ale