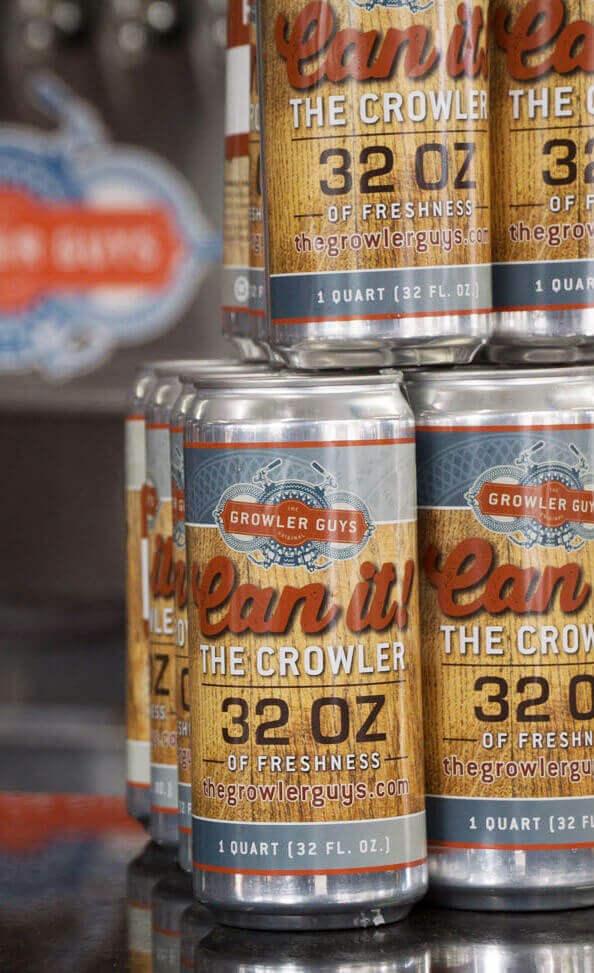 With the summer coming, many places don't allow glass containers. This can be a bummer if you picked up a growler of your favorite beer, kombucha, sangria or cider… only to find out you won't be able to enjoy it because there's a big 'NO GLASS' sign at your favorite gathering place.
Bummer, we know.
We have a remedy for that- it's called a Crowler. We know what you're thinking, "What's a Crowler?" Simply, it's a 32-ounce can of your favorite carbonated libation, sealed tightly onsite for you at The Growler Guys.
How does it work? Glad you asked!
The beer-ista will rinse the can with cold water, then purge the can of oxygen, using co2. Beer flows through a fill hose into the can from the bottom up, forcing air out of the can ahead of the carbon dioxide. Once the Crowler is filled, it's capped with a seam that is folded twice around the lid. The beer is sealed off from air and light. The best part is that it's all done in the same amount of time that it takes to fill a growler.
There is a lot of awesomeness that comes with a Crowler! If you forget your glass growler while having a pint with a buddy, a Crowler works in a pinch for taking home some of the craft beers you enjoyed.
Crowlers are easily transportable and they stay fresh until you crack them open. Throw it in your cooler, refrigerator, or backpack and it will taste just as amazing as it did when it came from the tap.
Best of all, we don't charge extra for Crowlers. You'll be charged the 32-ounce price of beer for your Crowler- and that's it. You simply can't use the excuse, "I left my growler at home" anymore.
Unfortunately, we didn't think of this million dollar idea. Who did? Our pals at Oskar Blues Brewery in Longmont, Colorado developed the fill system for 32-ounce cans while the Wisconsin Aluminum Foundry worked on the aluminum cans with Ball Corp.
It's as simple as that. Come by and watch the Crowler in action at one of The Growler Guys locations.