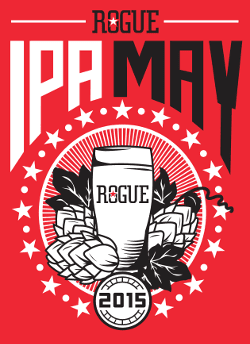 Get ready for a hoppy, lupulin-filled month of May as The Growler Guys has teamed up with Newport, Oregon's Rogue Ales to present "IPA May" all month long, and we have a special promo deal to go along with it!
All ten Growler Guys locations will have a dedicated tap handle featuring a rotation of five different Rogue IPAs, and this is a pretty special selection:
Brutal IPA
Rogue Farms 7 Hop IPA
Dad's Little Helper Black IPA
XS Imperial I2PA
New Crustacean Barleywineish Imperial IPA Sorta
Now of course you can come in anytime during the month of IPA May and fill your growler with any of these delicious India Pale Ales, but we're going to do you one better! We also have Rogue's specialty "Perfect" IPA glassware and we want you to enjoy these terrific IPAs from these glasses: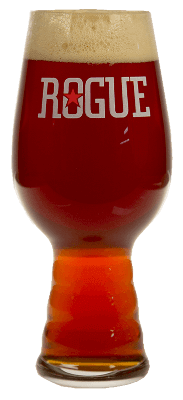 So we've set up a special Rogue glass and growler fill promotion just for IPA May! Here's how it works: come into any Growler Guys location during May and purchase our special IPA May punch card for only $10. This punch card has five slots, one for each of the above Rogue IPAs. What do you get for this punch card and $10? How about this:
A pair of Rogue's "Perfect" IPA glasses (retail value $20);
Get punched for $1 off your first growler fill of each Rogue IPA;
If you get all five Rogue IPAs punched off your card, you get a Growler Guys t-shirt!
Each Growler Guys location will have one of the five Rogue IPAs on tap at any given time, so you'll need to watch the What's On Tap page as well as their Facebook feed to see when a new one goes on tap, so you don't miss out!
Come celebrate IPA May with The Growler Guys and Rogue and be sure to try all five of their India Pale Ales with your punch card — you won't find a better deal anywhere!
About the Beers

STYLE: India Pale Ale
ABV: 6%   IBUs: 46
FOOD PAIRING: Seafood, Beef
TASTING NOTES: A non-traditional India Pale Ale with big citrusy, hop flavor and intense hop aroma. Medium-bodied with a vibrant lingering hop-bitterness that is anything but brutal. Enjoy!
8 INGREDIENTS: 2-Row, Carawheat, C15 & Rogue Farms Dare™ & Risk™ Malts; Rogue Farms Alluvial™ Hops; Free Range Coastal Water & Pacman Yeast.

STYLE: India Pale Ale
ABV: 8.02%   IBUs: 90
FOOD PAIRING: Beef, Spicy
TASTING NOTES: Beer begins in the dirt. In a bold collaboration with Mother Nature, we grow 7 varieties of aroma hops at Rogue Farms in Independence, OR. We also string, stake, train, test, trim, separate, sort, kiln and cool them. Brewmaster John Maier had 7 varieties available, but rather than picking from among them, he chose all 7 to create a proprietary palate for 7 Hop IPA.
13 INGREDIENTS: Rogue Farms Dare™, Risk™, Maier & Dare™ R-3 Malts; Rogue Farms Liberty, Newport, Revolution, Rebel, Independent, Freedom & Alluvial Hops; Pacman Yeast & Free-Range Coastal Water

STYLE: Black IPA
ABV: 6.8%   IBUs: 92
FOOD PAIRING: Beef, Pork
TASTING NOTES: Dad's Little Helper Black IPA is deep mahogany in color with roasted malt and hop aromas and dense creamy head. It enters the palate with intense hop flavor and coats the tongue with a rich maltiness.
10 INGREDIENTS: Munich, XLT Crystal Wheat, Midnight Wheat and Rogue Farms Dare & Risk Malts; Bravo and Rogue Farms Liberty & Freedom Hops; Free-Range Coastal Water and Pacman Yeast

STYLE: India Pale Ale
ABV: 9.5%   IBUs: 95
FOOD PAIRING: Beef, Pork
TASTING NOTES: Above and beyond an India Pale Ale—I2PA is radically hopped with an intense aroma and hop bitterness.
8 INGREDIENTS: Weyermann Pale Ale & Rogue Farms Dare™ and Risk™Malts; Rogue Farms Newport™, Freedom™ and Bravo Hops; Free Range Coastal Water & Pacman Yeast.
New Crustacean Barleywineish Imperial IPA Sorta

STYLE: Barleywine IPA Sorta
ABV: 11.6%   IBUs: 88
FOOD PAIRING: Seafood
TASTING NOTES: Not quite a barley wine and not quite a double or imperial IPA. Just drink it and enjoy!
8 INGREDIENTS: Weyermann & Bohemian Malts; Bravo, Amarillo, Falconer's Flight & Horizon Hops; Free Range Coastal Water & Pacman Yeast