You may be familiar with pairing wines and cheeses together, but have you considered pairing beers with chocolate?  There are a lot of similarities between chocolate and beer–and we're not just talking about the darker porters and stouts either.  Regardless of the type of beer you prefer, there's a kind of chocolate that will accentuate its flavor and create a uniquely satisfying experience for you.  Here are a couple of our favorite chocolate and beer pairings.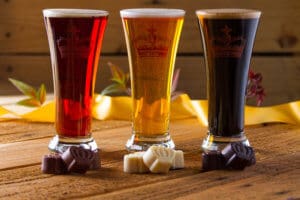 A Quick Guide to Pairing Beers with Chocolate:
Pale Ales and IPAs
Pale Ales and IPAs are characterized by floral, fruity, piney, and citrus-like flavors and feature a medium body.  Pair these beverages with white chocolates or lighter milk chocolates with fruit flavors.  For example, white chocolate with orange flavors or strawberries dipped in white chocolate will complement this style well.  With an IPA, you can kick up the chocolate content to medium milk chocolate, perhaps with a salted caramel flavor.  Stay away from dark chocolate, though–it will overpower the beverage.
Hefeweizens
Hefeweizens are light in color and have a fruity taste similar to an IPA.  However, they tend to be a bit spicier, often with hints of banana, clove, or vanilla.  Hefeweizens are also more highly carbonated than many other light-colored beers.  The spiciness of the beer can be accentuated with spicy chocolate.  Look for a Mexican Chocolate (chocolate with cinnamon) or one featuring hot peppers.
Pilsners
Pilsners have dry, crisp feel and a light malt flavor.  The aftertaste can be a little bitter.  To bring out the flavors in the beer, look for malted milk chocolates with nuts.  For example, hazelnut malted milk balls would complement a pilsner perfectly.
Porters
Porters have a dark color and a rich taste.  You may also find porters that feature chocolate nibs or caramel adjuncts.  An interesting and tasty complement to a porter is a bar of dark chocolate with coconut.  The sweet and nutty flavor will make the porter stand out.
Stouts
Stouts have a big, bold flavor that requires strong chocolate to stand up to it.  Dark chocolates with dark berry flavors go well with these beers.  For example, try a dark chocolate with raspberry or cherry flavors.  The chocolate will blend with the stout and highlight the taste of the berry.  If you're enjoying a more robust, Imperial stout, stick with the dark chocolate but try one that features nuts versus berries.  For example, try a dark-chocolate peanut butter cup with your favorite Imperial stout.
Oatmeal Stouts
Oatmeal stouts get a section of their own because of their smooth, creamy, roasted taste.  These beers pair really well with semi-sweet chocolate.  You just need a little sweetness to bring out the sugars in the beer.  Other flavors like fruit and nuts may overpower the soft mouthfeel of the beer.
Try all the styles of beers and find a new favorite.
Explore the growing variety of beers in one taproom, The Growler Guys.  Each location carries the best local varieties, from the palest ales to the darkest stouts, along with ciders and kombucha.  Our friendly staff is happy to walk you through the characteristics of every style to help you discover your personal favorites.  Take home the beers you love best in a growler to share with family and friends.  View our online tap list to learn about the available selections at a location near you.