Brown ales are dark-colored beers with more malts than hops resulting in a beverage often described as toasty, chocolatey, caramel-like, or toffee-like.  Yet, this beer category has received less attention than imperial stouts or session IPAs.  With so many shared characteristics, many consumers ask how are brown ales different from other dark beers like porters and stouts.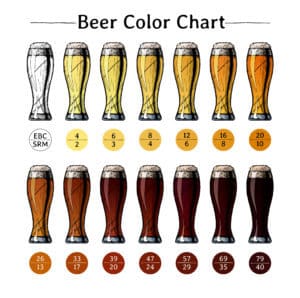 A Short History
Like many other beers, brown ales got their start in England during the 17th century.  They were brewed with a higher concentration of brown malts and fewer hops–creating a milder ale.  The ABV could be low or high, depending on the recipe.  However, these beers went out of style as brewers began using cheaper pale malts.  It wasn't until the late 19th century that they came back into production as Manns Brown Ale hit the market in England.  In 1986, Pete's Wicked Ale, produced by Pete Slosberg and Mark Bronder, was introduced to the American market and established the style here in the States.  Since then, its been a popular style amongst craft beer drinkers.
Recognized Styles
There are five primary recognized styles, each with distinct characteristics.
| | | | |
| --- | --- | --- | --- |
| | Color | Taste | ABV |
| English-style BA | Copper to brown | Medium-bodied, dry to sweet maltiness, very little hoppiness | 3.3% to 4.7% |
| Brown Porter | Medium to dark brown, sometimes with a red tint | Light to medium-bodied, low to medium malt sweetness, carmel and chocolate notes, medium hoppiness | 3.5% to 4.7% |
| Belgian Style Flanders | Light to medium deep copper to brown | Slight to strong lactic sourness, low to medium hoppiness, roasted cocoa or oaky flavor | 3.8% to 5.2% |
| German-Style BA | Copper to brown | Medium-bodied with a malty flavor, low to medium hoppiness | 3.6% to 4.4% |
| American-Style BA | Deep copper to brown | Medium-bodied with malty, caramel or chocolate flavors, medium hoppiness. | 3.3% to 5.0% |
So how are brown ales different?
The lines between brown ales and porters or stouts are very gray.  One seems to blend into another, and what it is called may be the discretion of the brewer.  However, here are a few characteristics that tend to make a beer a brown ale versus a porter or stout:
Color

.  Brown ales and porters both use brown malts, but brown ales are usually lighter.  Most brown ales fall between a translucent amber to a medium brown, while porters and stouts are much darker.  The darkness of beer is measured in a process called Standard Reference Method (SRM) by passing light through the beer and measuring the output on a spectrophotometer.  Brown ales fall between 12 and 22, porters range from 20 to 40, and stouts are at the end at 40.

Taste

.  There are a lot of similarities here, but brown ales tend to be sweeter or fruitier, while porters tend to have more of a burnt or coffee-like flavor.  Stouts will have a more full-bodied taste than either.

Alcohol content

.  The ABV of brown ales tends to be a little lower than porters and stouts, but with the variety of blends from today's brewers, even that isn't set in stone.
If you like porters and stouts, it's time to try a brown ale.
Explore the growing variety of beers in one taproom, The Growler Guys.  Each of our locations carries the best local varieties, from the palest ales to the darkest stouts, along with ciders and kombucha.  Our friendly staff is happy to walk you through the characteristics of every style to help you discover your personal favorites.  Take home the beers you love best in a growler to share with family and friends.  View our online tap list to learn about the selections currently available at a location near you!