St. Patrick's Day is right around the corner, and for many people, that means celebrating with a pint or two of beer. Beer has a long and storied history in Ireland, dating back to prehistoric times. Why not impress your friends during your holiday festivities with a bit of knowledge of the history of beer in Ireland?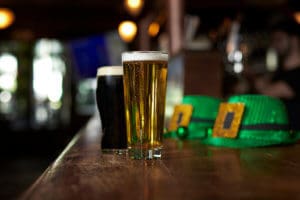 The ancient Celts brewed their own ale, which they called "uisce beatha," or "water of life." This ale was made from malted barley and water and was flavored with various herbs and spices. Over the centuries, brewing in Ireland continued to evolve. In the Middle Ages, monks were the primary brewers, and they used their skills to create a wide variety of beers. However, it wasn't until the 1700s that beer production in Ireland truly began to take off.
At this time, Dublin was the center of the beer industry in Ireland, and several breweries were established in the city. One of the most famous was the St. James's Gate Brewery, founded in 1759 by Arthur Guinness. His "invention" would serve to be an important milestone in the history of beer in Ireland.
Arthur Guinness was a talented brewer who had learned his trade from his father. He saw a great opportunity in the growing demand for beer in Dublin and decided to set up his own brewery. He leased a disused brewery at St. James's Gate and began brewing a dark, rich beer that would soon become world-famous: Guinness.
Guinness was an immediate success and quickly became the most popular beer in Dublin. It was so popular, in fact, that Guinness soon began exporting it to other parts of the world, including England and America. By the 1800s, Guinness had become one of the largest breweries in the world, with an annual production of over one million barrels.
During the 1800s, Ireland experienced significant political and social upheaval. However, despite the country's challenges, the beer industry thrived. In fact, during this time, the popularity of Guinness continued to grow, and it became synonymous with Ireland itself.
In the early 1900s, the Guinness family began to take a more active role in running the company. They were committed to maintaining the high quality of their beer and invested heavily in modernizing their facilities and processes. This commitment to quality paid off, and Guinness continued to dominate the Irish beer market for many years to come.
Guinness is still one of the world's most famous and well-respected beers today. It is brewed in dozens of countries and is enjoyed by millions of people around the globe. Despite its international success, Guinness remains a symbol of Ireland and its rich brewing heritage.
What makes Guinness different from other beers?
Guinness is different from other beers in several ways. Here are some of the key factors that make it unique:
Roasted barley: One of the primary ingredients in Guinness is roasted barley, which gives the beer its distinctive dark color and rich flavor. Most beers use malted barley, which is kilned at a lower temperature than roasted barley. The roasting process gives Guinness its unique taste and aroma.
Nitrogen: Another key factor differentiating Guinness from other beers is using nitrogen instead of carbon dioxide to carbonate the beer. This gives Guinness its signature creamy texture and thick head. Nitrogen also has a less bitter taste than carbon dioxide, which helps balance the bitterness of the roasted barley.
Low carbonation: Unlike many other beers, Guinness has a relatively low level of carbonation. This makes it less fizzy and easier to drink while still giving it a rich and full-bodied flavor.
Extra Stout: Guinness also offers a version of their beer called Extra Stout, which is even darker and more full-bodied than their standard brew. This beer has a higher alcohol content and a more complex flavor profile, with notes of chocolate, coffee, and caramel.
Serving style: Guinness is typically served at a cooler temperature than other beers and is often poured using a two-part process that involves letting the beer settle before topping it off. This helps to create the perfect creamy head and smooth texture that Guinness is known for.
Overall, Guinness is a beer that stands out from the crowd thanks to its unique blend of roasted barley, nitrogen carbonation, and low carbonation. These factors combine to create a rich, complex flavor and a smooth, creamy texture that is instantly recognizable to beer drinkers around the world.
Learn more about beer with a visit to The Growler Guys.
Explore the growing variety of beers in one taproom, The Growler Guys. Each location carries the best local varieties, from the palest ales to the darkest stouts, along with ciders and kombucha. Our friendly staff is happy to walk you through the characteristics of every style to help you discover your personal favorites. Take home the beers you love best in a growler to share with family and friends. View our online tap list to learn about the available selections at a location near you.