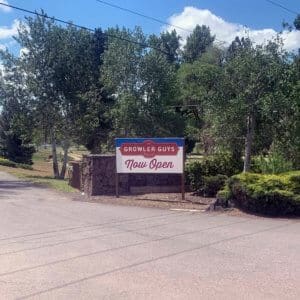 We're so happy to be serving customers at our new Growler Guys Location in Klamath Falls!  Our doors are officially open for business.  We're excited to meet people in our community that we hope we'll see many more times in the future.
If you don't get a chance to visit us during our Grand Opening Celebration on June 18, we'd love to meet you soon.  Here are some details about our Klamath Falls location:
We open at 11:00 AM daily, close at 11:00 PM Monday through Wednesday, are open until midnight from Thursday through Saturday, and close at 10:00 PM on Sunday. You can always access our hours here.
We're conveniently located at 4201 US-97 near the Reames Golf and Country Club.
Our taps include a full spectrum of beverages, from ales to stouts, as well as kombuchas, ciders, seltzers, sodas, and more. You can always check our current tap list right here.
We have a full menu, so you can enjoy lunch or dinner with us while you enjoy your favorite beverage.
Ask us about reserving our event space for your next company event or family celebration.
Our staff at Growler Guys location in Klamath Falls is ready to help you explore the world of beverages.  We can help you better understand what makes the beers you love taste like they do and connect you to new options you'll enjoy.  We hope to see you soon.