It's summer and no one wants to spend their time cooking over a hot stove top. It times to fire up the barbeque and get grilling with a beer in hand — but as we highlighted last week, not just any beer would do try pairing your barbeque masterpieces with the right beers.
What do you need?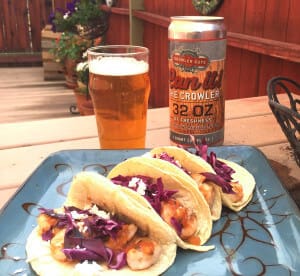 – Skewers (metal or bamboo will work)
– 1 lb of Peeled, Deveined Shrimp
– Jar of Tropical Flavored Salsa (mango and pineapple are great choices)
– Shredded Red Cabbage
– Cotija Cheese
– 8 Six-inch Corn Tortillas
(Serves 4 people)
If you're using bamboo skewers to grill your shrimp, let them soak in cold water up to at least 10 minutes so they don't burn on the grill.
Preheat the grill to 375 Degrees F. Skewer the shrimp and when done, baste the shrimp in the salsa. The amount of salsa you use is entirely up to you but, in the test kitchen, we used about 1/3 cup of tropical salsa on 1 pound of shrimp.
When the grill is ready, cook the shrimp skewers 2-3 minutes per side or until pink. If you'd like to baste the shrimp some more, go right ahead.
Dress your tacos with red cabbage, cotija cheese and more salsa.
Enjoy!