The holiday season has begun. As you're thinking about which craft beer will go best with your turkey feast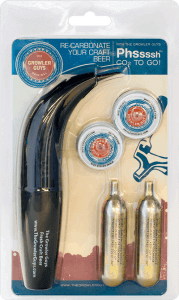 and maybe which beers to have on hand for the long weekend, we suggest you also consider buying the Phssssh CO₂ to GO! The Phssssh gadget, available either online or in-stores, is designed to extend the shelf life of your favorite beers in growlers.
So swing by one of our locations today and get a fill of a Belgian Dubbel, Saison or Amber Lager, which all pair great with turkey. Or get a growler fill of a crisp Pilsner if you plan to prepare your turkey with a lot of spice or glaze this year. Or better yet give your guests a real treat by letting them sample a few beers and choosing their favorite. By purchasing our Phssssh, you won't have to worry about any beer leftovers going bad.
Purchase at any of the Growler Guys® stores.
Have a Happy Thanksgiving!