Tony Lawrence, the head brewer and co-founder of Boneyard Beer sat down with The Growler Guys and shared his story of when he was first acquainted with the craft beer industry and his journey of becoming a brewmaster and opening his own brewery, Boneyard, in Bend, Oregon. Boneyard is famously known for their IPA, RPM. With a new pub opening shorty, Boneyard is greatly anticipating their new horizons.
The Beginning of Tony's Craft Beer Journey
"Truth is Tony Lawrence just came up to Bend, kind of a snowboard bum from California, and ended up getting a job in the kitchen at Deschutes Brewery. During that time, I became friends with John Harris, the founding brewmaster. Not the founder of the Deschutes Brewery, but the first brewmaster of Deschutes. He was responsible for all the initial brewing ideas, concepts, and recipes, things like Mirror Pond or Jubelale or Black Butte Porter, etc. My entry into the beer world, the craft segment, was a little serendipitous. I was drinking Sierra Nevada and drinking any other beer that would find its way in front of me, like any young man would. That's about when I started kind of hanging out at the Deschutes thing. I really love John Harris and I was finding that I really love making a living revolved around processing beer in some shape."
After work, Tony and John would chat about their mutual interests in beer and snowboarding. As they became good friends, John invited Tony to join him working in the back of the brewery.
"Again, it was keg washing in the beginning, then washing tanks in the cellar, and then transferring beer."
After a few years, Tony was given the opportunity to take the closing brewing shift which consists of finishing off brews, cleaning up the brewery and having it ready to go for the brewers to start in the morning. That position truly cemented Tony's love for brewing, and he began to work his way up, beginning a career in production brewing. "That's what I took most away from my experience at Deschutes was this kind of manufacturing, making eight beers a day, and finding efficiencies and trying to make things really fun and tasty all at the same time. I was with them from a crazy growth curve, from the original Bond Street location to building of the Simpson Street location, and the two breweries both working, and just trying to figure out how to make 100,000 plus barrels of beer. It was a great journey. That kind of leads a little bit to who Boneyard is." In November of 2002, after almost 12 years of being with Deschutes Brewery, Tony decided to change direction. He ventured off to Phoenix, Arizona to work for a brewery called Rio Salado; where he focused on creating traditional German-style lagers. Tony found himself a few years later, browsing for a new job in the Bay Area of California. When Matt Brynildson, the head brewmaster of Firestone Walker Brewing Company, found out Tony was looking for employment, he offered a job Tony couldn't turn down. "My job description, or title, at Firestone was to co-manage the packaging line."
Working at Firestone Walker
In his new role, Tony became great friends with Matt McGill who also managed the packaging line. The job was a little outside of Tony's wheelhouse, but he persevered, making the best of it, and learning a lot about beer packaging during the process and learned a lot about beer packaging. "They're such a great company, to see how they think about what they're going to try and achieve, and the quality control, the quality assurance, and standard operating procedures were just really well thought-out. That was great to be a part of." A year later to the day, Tony was back on the road to try to reinvent himself.
"I became a consultant that could help you work on some expansion projects around the brewery. Whether it's some stainless steel welding or putting in new bottling line or this or that. I stayed in the industry but wearing different hats."
Consulting for Breweries
With years of experience working in the back of the brewery, brewing, and managing a packaging line, Tony brought a lot of expertise to the table. Traveling around the country, Tony had the opportunity of working with numerous breweries such as Strike Shoots and Three Floyds Brewing. As a consultant, he made more friends in Arizona, California, and several other places. "When I came back to Bend I got to reflect on all those different brewing philosophies, and all those different people, and all those different breweries, and all those different regions. That's a little bit of who Boneyard is today. Just a little bit and piece of everything I liked most about each one of those places I got to spend some time at. I think this big journey I went on allowed us to, myself, or Boneyard to be who we are. I've been working on this vision for 15 years. Clay and Melodee Storey co-founded this thing with me in 2010. Our paths crossed at a very unique time in each other's lives and we did this thing together. It's mostly my intellectual property but, hey, we did this together as a team."
RPM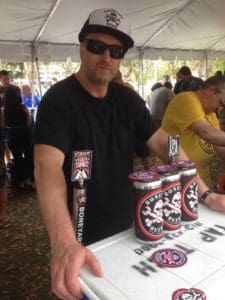 As many know, Boneyard is famously recognized for their world class RPM IPA. "Here's my journey. RPM is my baby. In my mind, here's the journey of RPM. We got brewing at the Lake Street location on the 20-barrel brew house May of 2010. I didn't even make RPM then. We tried to make Bone-A-Fide Pale Ale as our flagship."
For Tony and his fellow brewers, they prefer to drink a brew that tastes like an IPA, but has the ABV (alcohol by volume) of a Pale Ale. They also realized that in a town of hop heads and not having an IPA on their chalkboard menu, they were missing out on a good consumer base. In turn, RPM was born. "RPM was mostly inspired by Union Jack at Firestone." Of course, when creating the recipe, Tony also looked into how different breweries like Russian River were creating their tasty brews. "I want to bring my beers down in ABV a little bit for a higher drinkability factor. I think the shelf-life ages out a little bit better. For me, and who I am, if I'm not making the beers to satisfy me, then what will Boneyard ever be? I decided I wanted to drop the ABV a little bit."
As RPM grew in popularity, Boneyard eventually dropped the ABV from 7.5% to 6.8% at their Lake Street location. Two and a half years ago, when the new facility on Plateau Street was built, they started brewing RPM on their new 50 barrel brewhouse to keep up with the demand. "Now, flavor matching is not as easy as anyone could ever think. To make what we refer to as 'Brew Two', the new brewery, taste like 'Brew One', the old brewery, you'll do your best. It's not as easy as just scaling up the recipe by some multiplier. We had some difficulties over here, and I think that's when people kind of picked on that maybe a little bit, and rightly so. I stand proud. I'm here knowing that we did a pretty good job trying to replicate what we're doing at the old brewery on the new brewery."
Boneyard's Pub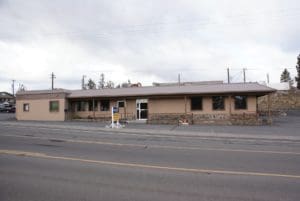 Moving forward, the next big project Boneyard is currently tackling is opening their new pub. "We're crazy excited, as, I think, a lot of people are." Within 60 days, Tony was able to bring his pub concept into a reality when they purchased a piece of property on Division Street in Bend. Boneyard's initial plan was to "put a little lipstick on this building", but once they met with the engineers and architects, their simple plan turned into a fun, innovative project. "It's gone from a really simple, humble project to well over a million dollars in tentative improvements. Along with that comes all the city stuff." Boneyard's pub will be 350-person occupancy, whic
h includes a spacious 160-person outside area with big fireplaces. "It's not what I intended to do in the beginning but I'm real excited about what we're going to put into play and I think it's going to do the brand good. It's always a long, painful, arduous journey and to me, it's just another example of that. I say middle of summer, I hope." Along with Boneyard and the team, Tony is pleased with what the future has in store for them.