Known for small production and exceptional quality, Trappist ales have been crafted by monks for centuries – but according to The Oxford Companion to Beer, they've actually only been available to the general public for about the last 80 years. In the early 1930s, Orval and Westmalle began creating and distributing beer on a commercial scale – creating fans of Trappist beer in every corner of the globe.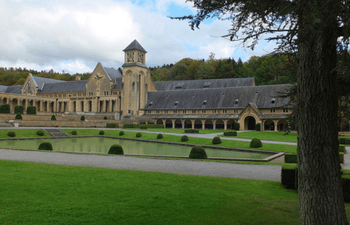 For a beer to be officially-recognized by the International Trappist Association, it must be brewed inside the walls of a Trappist monastery under the supervision of monks. Additionally, the beer cannot be brewed for profit – but can only be sold to sustain the needs of the monastery, the monks, and the surrounding communities or designated charities. When you drink an authentic Trappist ale, you'll see a small rhombus on the label that indicates the beer was in fact crafted by (or under the supervision of) monks, follows the guidelines for monastic beer brewing, and has been sold only to support the monastery and surrounding communities.
There are currently 11 Trappist breweries in the world, and they're responsible for creating 12 beers that are legally and legitimately approved to be called Trappist ales. The monasteries are located predominantly in Europe – where the Trappist monks rebuilt after the French Revolution – with six in Belgium, two in the Netherlands, one in Austria, one in Italy, and the only overseas brewery in the United States. Additionally, Mont des Cats in France has partnered with Abbaye Notre-Dame de Scourmont in Belgium, which makes Chimay, to brew Mont des Cats ale offsite at the Scourmont Abbey.
THE TRAPPIST BEERS AND BREWERIES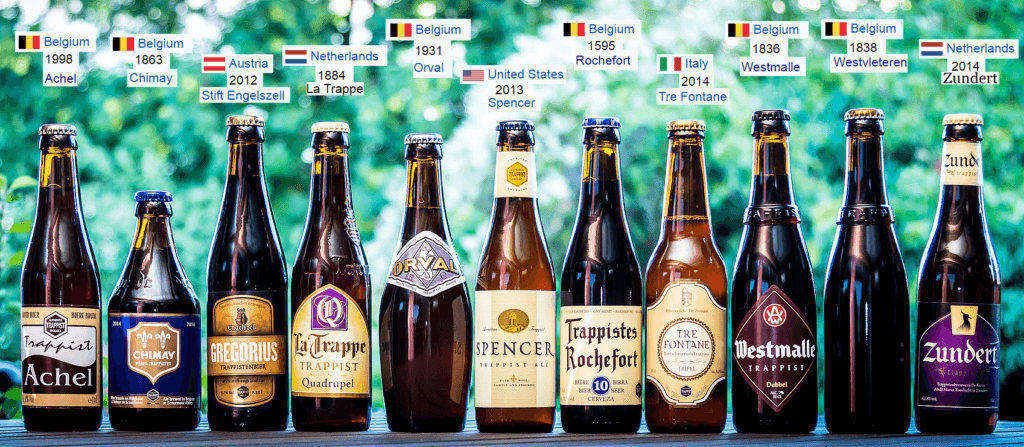 Every Trappist brewery is as unique as the community of monks living in the monasteries that run them. While monks are required to supervise the production of authentic Trappist ales, many monasteries now hire outside help for day-to-day brewery operations. Regardless of who performs the actual brewing, each beer that's created reflects the values, craftsmanship, and dedication of the monks who've tended to their individual recipes for generations.
These are the current Trappist breweries and the beers they create:
Located in Austria, Stift Engelszell has been an ITA brewery since 2009 and is the smallest Trappist brand with an annual production of just 2,000 hectoliters (about 1,680 barrels). The brewery is known for Benno, a hoppy, saison-style golden ale, and Gregorius, a strong dark ale with pronounced flavors of Dutch cocoa. Both beers are crafted with local hops and include local honey.
Chimay is located in Belgium and is the most famous of the existing Trappist breweries, with its blue, red, and white beers available worldwide. The first Chimay Red was created in 1948, and most recently, Chimay Triple was created in 2001. Because it's so readily-available, Chimay provides the introduction to Trappist beers for many people and is considered by many to be one of Belgium's best.
Orval from Abbaye Notre-Dame d'Orval
Situated in Belgium, the brewery at Orval creates only one beer using spring water, barley malt, hop cones, candy sugar, and the "Trappist yeast Orval." Because hops are added at two different stages (called British "dry hopping"), fermentation continues in the bottle. The result is a hoppy Tripel-style brew with an infamously bitter taste that some people collect and cellar for 20 or 30 years, like a fine wine.
Rochefort from Abbaye Notre-Dame de St. Remy
Rochefort is located in Belgium and is unique amongst Trappist breweries for using a number system to name its beers.  The Rochefort beers include a Dubble called 6; a Triple known for its sharp taste of hops and spice called the 8; and the 10, a dark brown, malty Quadrupiel that weights in at 11.3% ABV. Because the monastery is small, the monks and beer makers are able to control production precisely, given the brewery a reputation for exceptional quality.
Westmalle brewed by Abdij der Trappisten Westmalle
The Westmalle brewery can be found in Belgium and is highly-regarded for the two Trappist beers is creates: the Dubbel, which is a dark, reddish brown beer with a cream colored head, and the Tripel, a complex beer that's soft, creamy, and bitter, and is considered by many to set the standard for Tripels. Westmalle also creates an Extra that's brewed twice a year exclusively for use by the monks.
Achel brewed by St Benedictus-Abdij
Also found in Belgium, Achel prides itself on a production process that takes two months from start to finish. The monks focus on giving each brew the time needed to fully-mature and believe these bottle-fermented beers peak at the two month point. Achel's beers include a bold but approachable Blond, along with the dark amber Bruin and the flagship brew called Trappist Extra.
Westvleteren

brewed by St Sixtus Abdij  
In spite of producing what's consistently-rated one of the best beers in the world, Westveletern XII, Belgian brewery Westvleteren strictly adheres to producing only as much beer as is needed to support the abbey. This scarcity of production – as well as exceptional quality and taste – may explain why Westveletern XII, along with Westveletern XIII and Blonde, are some of the most highly-coveted beers on the planet.
Mont des Cats

, brewed at the Abbaye Notre-Dame de Scourmont in Belgium in partnership with Mont des Cats
Located in French Flanders, Mont des Cats opened its brewery in 1848 but stopped production in 1905 and was completely destroyed by air raids in 1918. In 2011, the monastery revived its brewing tradition, partnering with Scourmont Abbey to offer the new "Mont des Cats" Trappist ale. Brewed off-site at Scourmont, the amber-colored ale isn't an "Authentic Trappist Product," but it has been designated a Trappist beer by the ITA.
La Trappe, brewed by Abdij Onze Lieve Vrouw van Koningshoeven
The Koningshoeven Brewery in the Netherlands has been brewing La Trappe ales since 1884 and creates one of the widest varieties of Trappist beers – with nine different brews crafted behind the monastery walls. While each La Trappe ale is distinctive, the monks approach every recipe with patience, passion, and traditional craftsmanship to create pure ales that reflect the monastery's intense focus on silence and reflection.
Zundert, brewed by Zundert Maria Toevlucht Abbey
One of two Trappist breweries in the Netherlands, Zundert tested many recipes before settling on the single beer it brews: the complicated Zundert Trappist. This top-fermenting chestnut colored ale is an intense beer that the Zundert monks describe as "slightly unruly," combining hoppy bitterness with undertones of herbs and spices. While some consider it to be an acquired taste, many beer fans believe it's worth taking the time to understand.
Tre Fontaine

, brewed by Abbazia delle Tre Fontane
The newest of the 11 Trappist breweries, Tre Fontane is located in Italy and has been a member of the International Trappist Association since 2014. The microbrewery was established in 2015 and quickly became known for the eucalyptus-scented brew called Birra dei Monaci (or Monk's Beer) – a light but full bodied beer that's made with eucalyptus planted by monks in the 1870s to help combat malaria.
Spencer, brewed by Saint Joseph's Abbey – Spencer
The only Trappist brewery located in the United States, Saint Joseph's Abbey sits in Spencer, Massachusetts – which became the namesake for its brewery and Trappist ale. The beer began as a passion project for one of the resident monks and soon inspired the monastery to take up the Trappist tradition of brewing.  An ITA Trappist beer since October 2013, Spencer is a full-bodied, fruity Belgian Pale Ale inspired by patersbier.
THE LIMITS OF TRAPPIST PRODUCTION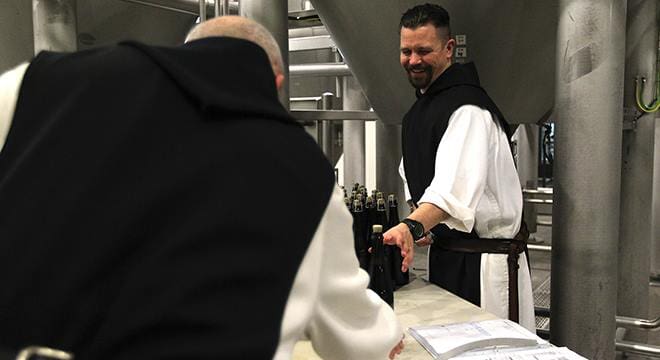 Today, Trappist ales have a worldwide following, in large part due to the exceptional quality – but also because production of the beers is extremely limited. To become approved as a Trappist brewery, a monastery must show that brewing beer takes second place to religious pursuits and beer is brewed specifically to support the monastery and its needs. Since monasteries are not allowed to make a profit, monks only make as much beer as they need to support themselves, their facilities, and community needs.
This philosophy obviously contrasts with the idea of supply-and-demand, leaving many beer lovers frustrated by the lack of availability of Trappist ales. Even as Trappist beer wins awards and gains acclaim, monks remain more focused on religion than creating beer and refuse to increase production. The Independent reported that after Westvleteren ale was named the best beer in the world in 2012, customers regularly line up outside Saint Sixtus abbey in northern Belgium because the monks make just 4,750 hectolitres a year.
Similarly, according to the Independent, Orval capped production at 70,000 hectolitres in 2012 after realizing their church and brewery were in excellent condition, they were able to support a wide range of charities, and they had no additional needs. The only brewery that consistently advertises and expands is Chimay because of its unique circumstances. The monastery and brewery are located in an area with high unemployment rates, and expanding the brewery to increase production has allowed the monastery to better meet the needs of the community.
The scarcity of Trappist ales has certainly contributed to the popularity of these beers – and also has led to the rise of the similarly-styled abbey beers. In our final installment, we'll explore the different types of Trappist ales, what differentiates them from abbey beers, and how abbey beers have helped to fill the gap between supply and demand. Grab your goblet and your favorite brew, and settle in for the conclusion of this extraordinary Trappist tale.