Brewmasters and breweries are constantly evolving their recipes. Just as one type of beer takes hold, there are sure to be a handful of new up and comers to keep beverage consumption interesting. If you enjoy exploring different types of beer, then you may be interested in beer trends to watch in 2022.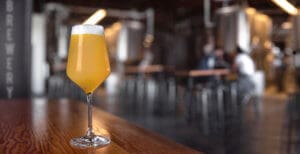 Keep an Eye on NA 
Non-alcoholic (NA) beers have been on the market for quite a while, but they haven't experienced an increase in popularity until recently. NA beers had some notoriety regarding a "lackluster" flavor or a general bad taste. However, as time has gone by in the industry, many companies have been taking this critique and improving upon it. It's common today to purchase a NA beer with an incredibly powerful flavor and taste. 
As there begins a rise in the general public about health concerns revolving around alcohol, the demand for the taste without the impact has been steadily growing and isn't something to ignore. It's expected that in 2022 and later, the sales of NA beers will continue growing with an increase in popularity overall.
A Rise in Cans
When it comes to the consumption of beer over the past few years, the purchase of bottled beers has remained stagnant while canned beers have gotten increasingly popular. Canned beer has been seen as more convenient than bottled due to the ability to take them outdoors without the risk of shattering glass. 
Because of this trend, breweries have been starting to can their craft beer. Unfortunately, this strategy was detrimental to some brewing companies during the start of the pandemic when our country experienced a shortage of cans. However, now that the production of cans is back on track, you can expect to see more cans of craft beer for sale in stores. 
A Continuation in Hard Seltzers and Exploration of Fruity Beers
Hard seltzers have been taking the beer industry by storm for quite a while, as they're classified as a flavored malt beverage (FMB), a part of the larger scale beer category. But as the popularity of hard seltzers has grown, fruit-flavored beers have been making a bit of a name for themselves for the casual drinker. Fruit-flavored beers have always been available on the market as an exotic option to the regular beer drinker, especially those with citrus flavor. However, now that hard seltzers have a variety of fruity flavors, brewing companies expanded their fruit-flavored beer options to create more exciting and refreshing flavors.
Healthier Beer Options Appear
Like NA beers, the demand for healthier options has not stopped at removing alcohol. Low- to no-calorie beers are on the rise as well. When given a choice between a light and regular beer, brewery customers are likelier to choose the light beer option. As a result, breweries have begun to adjust their menus to include a much more diverse array of light beers from their preexisting options. 
IPAs will Continue to Flourish
To the surprise of no one, IPAs are still the most popular of all the types of beer available in America. Specifically, hazy IPAs continue to be a prime beverage of choice. While trends have shown that for a brief second that New-England style IPAs were surpassing them due to their "freshness," hazy IPAs are here to stay, dominating the IPA category. Breweries will continue to produce these types of IPA to meet the overwhelming demand due to their very specific flavor profile. 
The Growler Guys is your one-stop destination to try beers of every style.
Explore the growing variety of beers in one taproom, The Growler Guys. Each of our locations carries the best local varieties, from the palest ales to the darkest stouts, along with ciders and kombucha. Our friendly staff is happy to walk you through the characteristics of every style to help you discover your personal favorites. Take home the beers you love best in a growler to share with family and friends. View our online tap list to learn about the selections currently available at a location near you!