It's that time of year your neighbors, co-workers, and friends are dropping off a plate of Christmas cookies! Ever wonder what craft beers pairs with your favorite holiday classics? We did the research on four cookies recipes so you could impress your friends with your beer and holiday cookie pairing knowledge.
You're holiday cookie tray isn't complete without fudge! We went with the standard fudge recipe on the back of the marshmallow cream that your grandmother's grandmother has been making for years. Since fudge is very rich, a basic brown ale would go perfectly to offset the richness!
Fantasy Fudge Paired with Brown Ale
96 servings
(Dogfish Head Indian Brown Ale is photo)
Ingredients
3 cups sugar
3⁄4 cup butter
2⁄3 cup evaporated milk
8 -12 ounces chocolate chips
1 (7 ounce) jar marshmallow cream
1 cup nuts (optional)
1 teaspoon vanilla
Method
1. Mix butter, sugar and milk in a saucepan.
2. Heat until 230 degrees on a candy thermometer. Or if you do not have a thermometer, bring to a rolling boil, constantly stirring for 4 to 5 minutes.
3. Remove from heat.
4. Stir in candy chips a little at a time until melted.
5. Stir in the rest of the ingredients.
6. Spread into a greased 13″ by 9″ by 2″ pan.
7. Cool to room temperature.
8. Cut into square
A fun twist on oatmeal cookies, cranberries are added instead of raisin and then dipped in white chocolate and drizzled with pecans. Due to the tart cranberries, we paired this beer with a sour ale.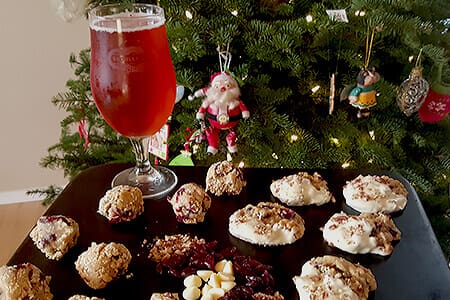 White Chocolate Dipped Cranberry Oatmeal Cookies paired with a sour ale
48 servings
Ingredients:
1 cup salted butter, room temperature
3/4 cup dark brown sugar
1/2 cup sugar
1 egg
2 tsp vanilla extract
1 3/4 cups all-purpose flour
1 tsp baking soda
1/2 tsp baking powder
1/4 tsp cinnamon
1 1/2 cups uncooked quick cook oats
1 1/2 cups dried cranberries
1/2 cup pecan pieces, toasted, optional
1 bag of white chocolate chips
Method
1. Preheat oven to 350 degrees
2. Beat butter and sugars together until well combined.
3. Add egg and vanilla extract and mix until well combined.
4. Add flour, baking soda, baking powder and cinnamon and mix until well combined.
5. Add oats and mix until a thick dough forms.
6. Stir in cranberries and pecan pieces.
7. Place heaping tablespoon-sized balls of cookie dough onto a parchment lined cookie sheet.
8. Bake 8-9 minutes. Cookies may look a little undercooked in the center, but the continue to cook and firm as they cool. Do not over bake. If cookies look cooked (not a little undercooked) when you take them out, they are probably overcooked.
9. Let cookies cool for about 2 minutes on the cookie sheet, then remove to cooling rack to finish cooling.
10. Once cookies are cool, melt white chocolate chips in a small bowl.
11. Dip cookies, one at a time, into white chocolate chips and shake to remove excess white chocolate chips. Set on parchment paper to dry. Sprinkle with crushed pecans before the white chocolate chips dries, if desired.
Another classic cookie that is fun to make as well as pair is the decorated sugar cookie. This recipe works great for cut-outs and works well with using colored sugars or decorating. Because sugar cookies are light, we paired this with a pilsner.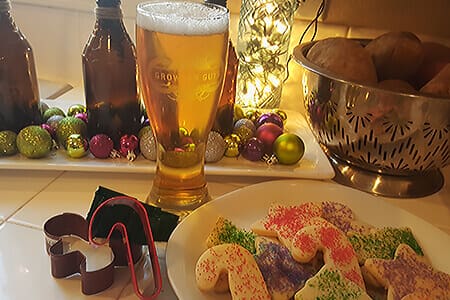 Sugar Cookies paired with a pilsner
Makes 40-50 cookies
Ingredients
1 cup unsalted butter, room temperature
1¼ cup sugar
1 egg
1½ teaspoons vanilla extract
½ teaspoon almond extract
3 cups of flour
1½ teaspoons baking powder
¼ teaspoon salt
colored sugars or icing for decorating
Method
1. In a large mixing bowl, cream together butter and sugar until light and fluffy, about 2 minutes. Add in egg, vanilla extract, and almond extract and mix until combined.
2. In a separate bowl, combine flour, baking powder, and salt. Make sure to spoon the flour into your measuring cup and level it off with a knife to ensure accurate measurements.
3. Slowly add the flour mixture to the butter mixture and mix until completely combined.
4. Roll the dough between 2 sheets of parchment or wax paper and place on a baking sheet in the refrigerator.
5. Chill for about 20-30 minutes.
6. Cut dough into shapes with cookie cutters and transfer to a baking sheet. Sprinkle with colored sugars and bake at 350 degrees for 8-12 minutes.
7. Cool on baking sheet 5 minutes, then transfer to a baking rack to cool completely.
Our last cookie is a twist on the classic that Santa is sure to love!  You'll never make just chocolate chip cookies again without adding pretzels and peanut butter chips! This batch only makes 24 cookies, so double it to make more! These cookies disappear off the plate quickly.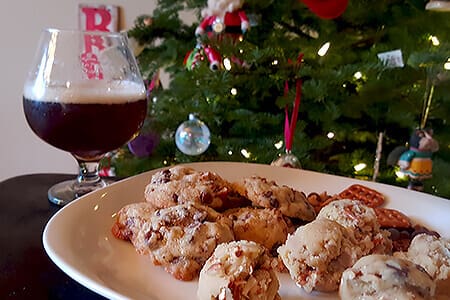 For this decadent cookie, we paired it with a Belgian Dark Ale
Chocolate & Peanut Butter Chip Pretzel Cookies paired with a Belgian Dark Ale
(In Photo:
Pfriem
Belgian Dark Ale)
Makes 24 cookies
Ingredients:
1 1/2 cups of all-purpose flour
1/2 tsp. of salt
1/4 tsp. of baking soda
1/2 cup of butter at room temperature
1/2 cup of tightly packed light brown sugar
1/3 cup of granulated sugar
1 egg (beaten)
1 tsp vanilla extract
1 cup milk chocolate chips
1/2 cup peanut butter chips
1/2 cup broke up pretzel pieces
Method:
1. In a medium bowl, sift together the flour, baking soda, and salt. Set aside.
2. In a larger bowl, beat the butter and sugars together on medium speed until light and fluffy (about 2-3 minutes).
3. On low speed, slowly add the beaten egg and vanilla extract. Beat to combine, scrape down the sides of the bowl.
4. Add the flour mixture and beat just until there are no more streaks of flour.
5. Stir in the chocolate chips, peanut butter chips, and pretzels.
6. Cover and refrigerate for an hour.
7. Preheat the oven to 350F. Line baking sheets with parchment paper. Scoop out well-rounded tablespoonfuls of the dough and sprinkle with pretzel salt. Leave about 2 inches between each ball. Bake for 10 minutes. If you prefer crispier cookies increase the baking time by 1-2 minutes.
8. Allow the cookies to cool on the baking sheet for a few minutes before removing.